Tuesday, 13 May, 2014 15:08 Written by
Holiday Inn Express Clarke Quay (HIEXCC) is located in a very quiet cornet of Singapore city. It offers convenient access to Mohamed Sultan Road/ Robertson Quay, Clarke Quay and Chinatown. These neighbourhoods are just 10-15 minutes' walk away. The nearest subway stations are Clarke Quay and Chinatown (10 minutes on foot from hotel).
Clarke Quay, located right next to Singapore River, is a bustling entertainment and dining hotspot come every evening. There are restaurants in restored colonial shophouses offering cuisine from many countries. In addition, pubs and discos are aplenty at Clarke Quay. When the US Marines or Navy docks in Singapore, Clarke Quay is flooded with fit servicemen as well as their local female admirers in tight, short dresses. From Clarke Quay, you can pay for a river cruise up and down Singapore River and into Marina Bay. There is also an adrenalin-pumping ride on ropes called G Max Reverse Bungy & GV-5 Extreme Swing. G Max is popular with locals and tourists alike.
Mohamed Sultan and Robertson Quay offer more restaurants, pubs and cafes. It is a trendy hangout.
Chinatown, with its rows of colourful colonial shophouses, is overtly geared towards tourists. There are many shops selling cheaply produced souvenirs. You can also find inexpensive local food here. There is an outdoor food street (at Smith Street)where many hawkers prepare local food right in front of you. Besides tourists, Chinatown is populated by the aged of Singapore. In Singapore where homosexuality is a crime, Chinatown is also the unofficial gay ghetto of this tiny island.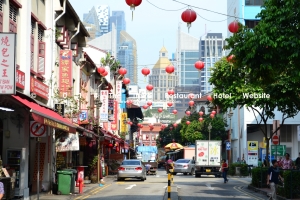 Located equi-distance from the above 3 enclaves, HIEXCC offers comfortable, no-frills accommodation. There are only 2 types of rooms at HIEXCC—- Standard Queen and Standard Twin.
Holiday Inn Express has another property (Holiday Inn Express Orchard) right in the heart of Orchard Road, the shopping belt of Singapore. The rooms of HIECC are very small. They are smaller than HIEX Orchard—-HIEX Orchard rooms have space for a funky yellow reclining chair but that is missing here. At HIEXCC, they have attempted to maximise the sense of space by having a semi-open layout bathroom and an open closet.To ensure privacy, one closes the sliding doors.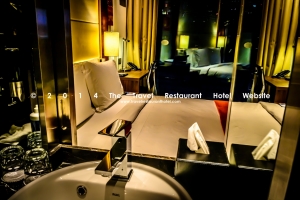 Though the rooms are small, all the standard amenities are available and the rooms are adequate. There is a flat screen TV with around 20 channels, coffee-making facilities (with free sachets of coffee and tea), a hair dryer, a rain shower, a mini refrigerator and free wifi. Instead of small bottles of shampoo and shower get, you pump out a shampoo-cum-shower gel from a big dispenser in the shower stall like at a gym. To ensure you have the best sleep possible, they have thoughtfully provided 2 kinds of pillows —-soft and firm.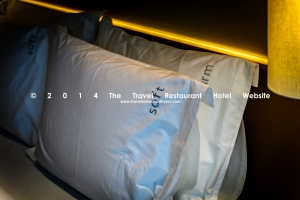 Though small, I am very happy to report that the room is very clean, the air-conditioning is silent and the TV and wifi work seamlessly. The Housekeeping team did a great job—- they are fast and kept my room very clean. There is no turn down service at the HIEXCC.
HIEXCC is not a tall hotel. There are only 7 stories with the reception and breakfast café occupying the ground floor.
Depending on where your room is, you may look out to see the road in front of the hotel or the Singapore city skyline (you can even see Marina Bay Sands where the casino is). At night, the twinkling skyscrapers of Singapore city make for an ok view. If you get a room that faces inwards to an air well, then you would just see… well, the window of another room.
Tip: try not to get a room right next to the elevators. My room was away from the elevator, so I can't report if your sleep will be disturbed by people stepping in and out of the elevator.
While the rooms may be smaller than HIEX Orchard, HIECC makes up for it with a pool and 2 jacuzzis (both close at 7pm)
and a small un-airconditioned gym. These facilities are unavailable at HIEX Orchard.
There is also a landscaped garden on the roof top.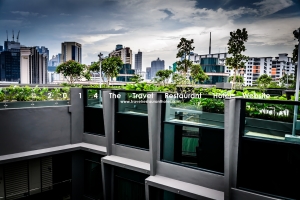 It is quite pleasant to stroll around the rooftop in the evening, after the heat is gone, and take in the view of the city skyline and the colourful lights of Clarke Quay.
With an emphasis on fuss-free practicality, there are laundry machines as well as a vending machine. Besides the usual snacks and soft drinks, the vending machine also sells Panadol (which is extremely useful in combating flu and fever symptoms) and condoms (how practical). In case you need other stuff, a 7-eleven is 5 minutes away. The nearest supermarket is Meidi-ya at Liang Court (10 mins away on foot).
Breakfast at Holiday Inn Expresses is a simple affair. There are 4 hot dishes, mainly carbohydrates with 1 or 2 protein. The hot dishes are a mixture of Asian and Western. Besides hot dishes, there juices, fruit, cereal, baked goods, coffee and tea. Unique to Holiday Inn Express, they have a concept called Grab-and-Go. You can grab bananas, apples, muffins, coffee and tea with the paper cups and paper cartons available and go. I wish they have paper bags for guests to carry their fruit and muffins. My paper carton (meant for holding the paper cups) broke and my fruit and muffins fell out. I seemed to recall they had paper bags at HIEX Orchard.
In one of the most expensive cities of the world, HIEXCC offers clean, functional accommodation with an internationally reliable brand name at a relatively more affordable price. Its location offers strategic access to some popular tourist and F&B hotspots in Singapore.