English
Housed in a pretty 3-storey yellow building, "Antonio" is a dining instituition in Macau.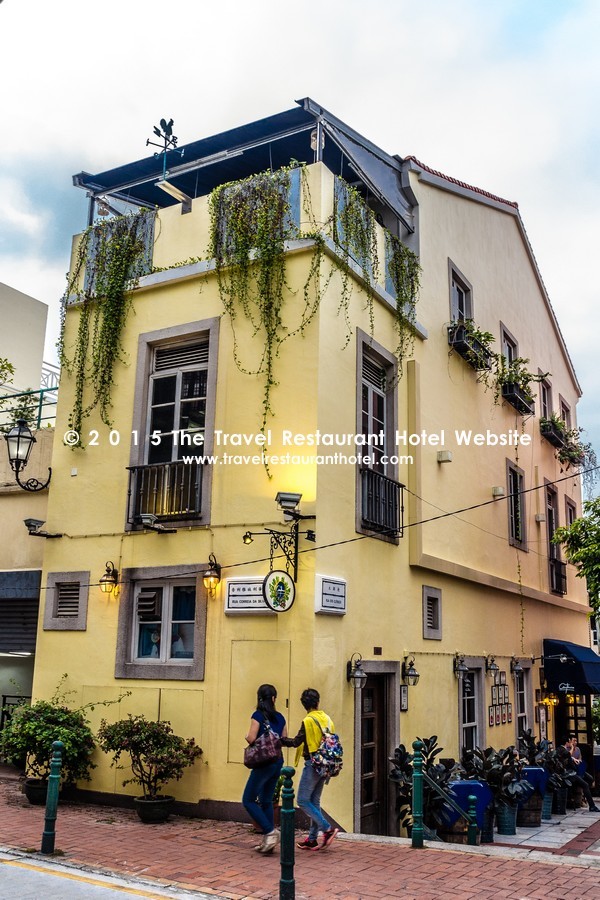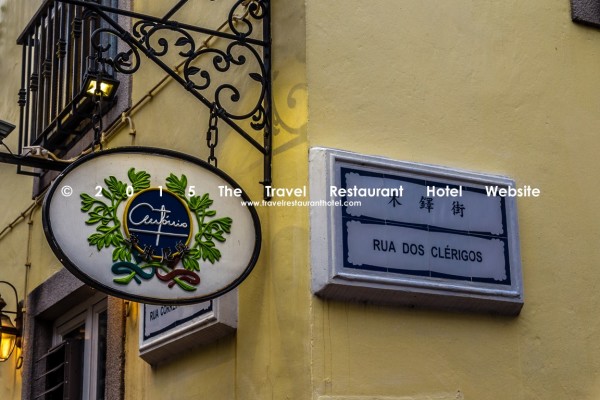 The restaurant is intimate.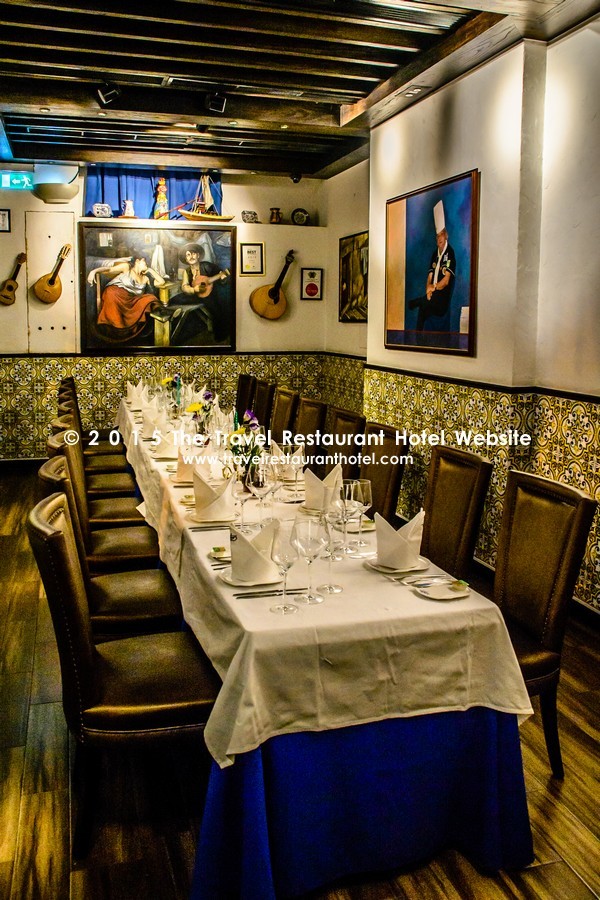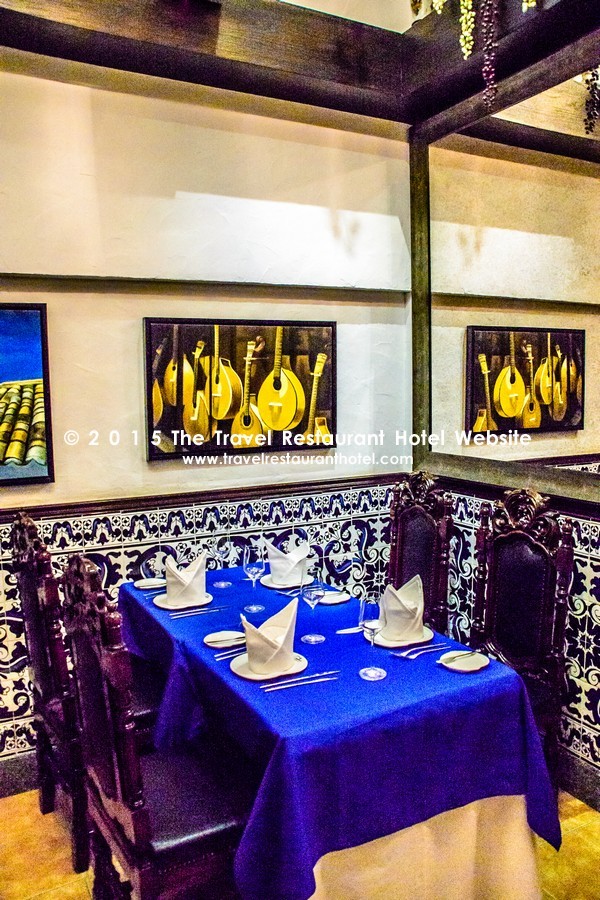 Dark wood is complemented with blue table cloths, blue curtains and beautiful blue and white tiles on the walls. Flowers hanging from the ceiling and little floral arrangements on the tables inject much welcomed pockets of life into the space and provide needed balance.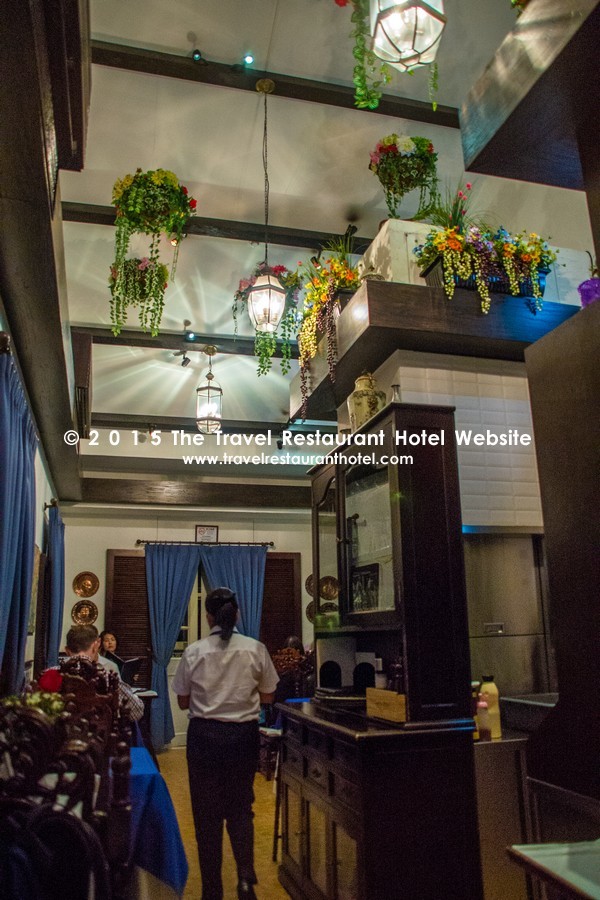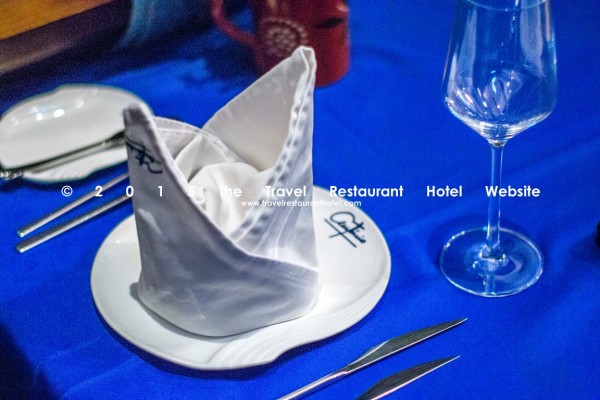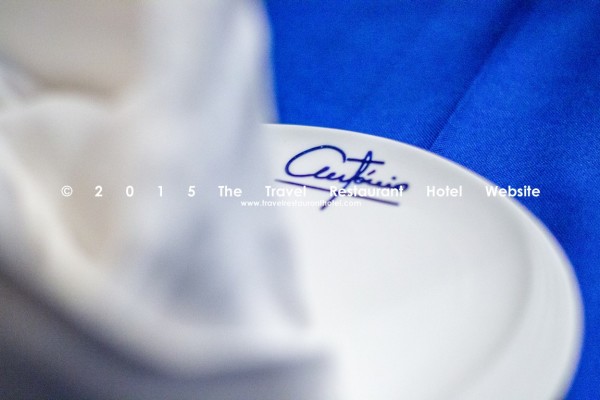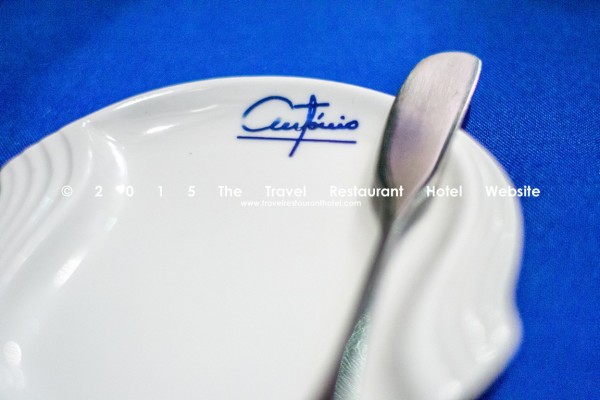 Prawns sauteed with Garlic
Garlicky and stimulating, the fire from the garlic punches the palette lightly and wakes it up for more palette sensory stimulation. Ice cold and slightly acidic,  the Alvarinho is a most excellent accompaniment to this appetizer.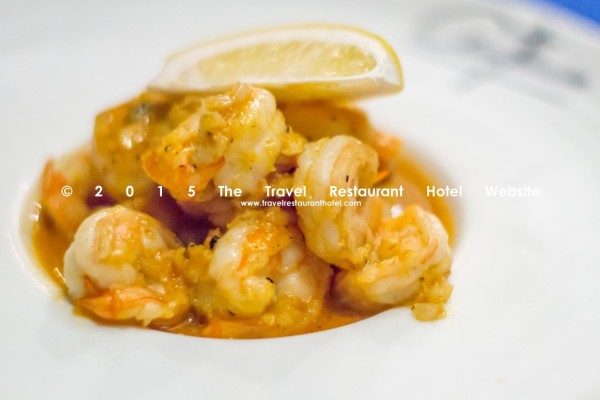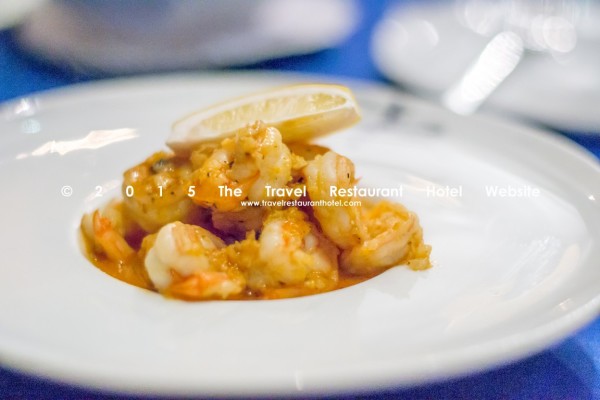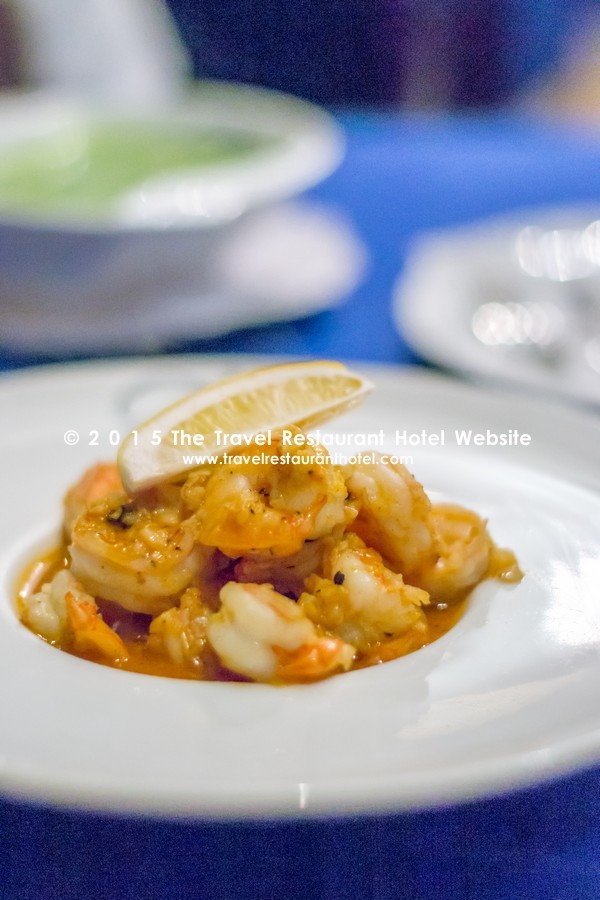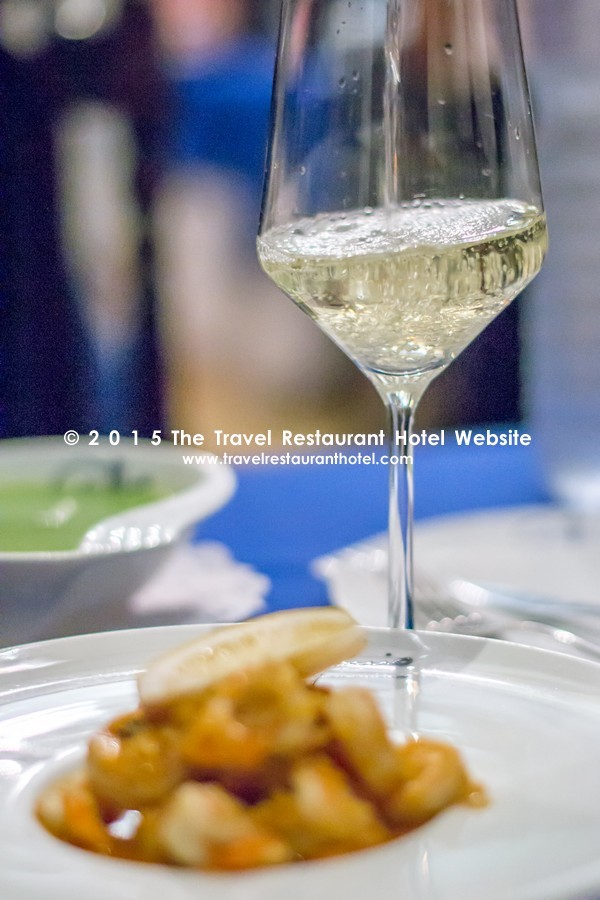 Creamy Asparagus Soup
This soup is amazing.  It is the creamiest asparagus cream soup I have ever tasted.  The bits of asparagus in the soup are tender and crunchy, which only add to the quality of the soup.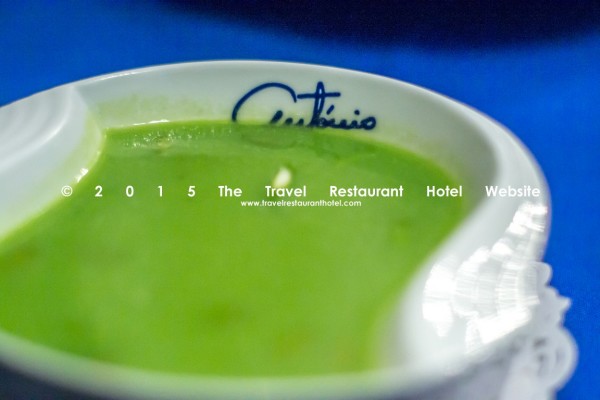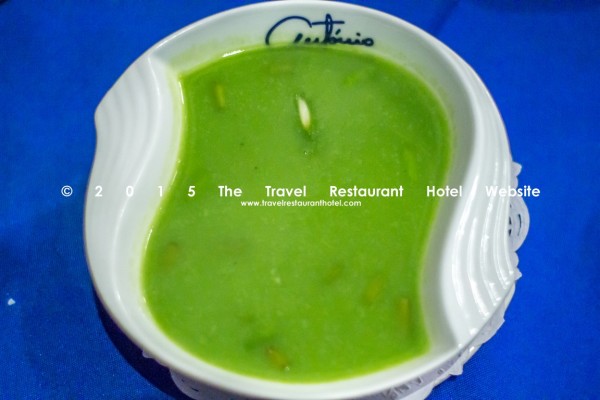 Portuguese Rabbit with White Bean Stew
The rabbit is imported from Portugal.  This is yet another amazing dish.  The rabbit has a distinct flavour and oh-so-satisfying. Though not exactly the star of the dish, the surrounding legume and vegetables have been executed with equal care.  The white beans are soft, the carrots are firm but give way easily to bite, the baby corn and broccoli are crunchy. Each was cooked to the degree of perfection.  I was amazed at the attention given to the supporting ingredients of a dish.  The care given to supporting ingredients only speak of the high quality of cuisine provided by this restaurant.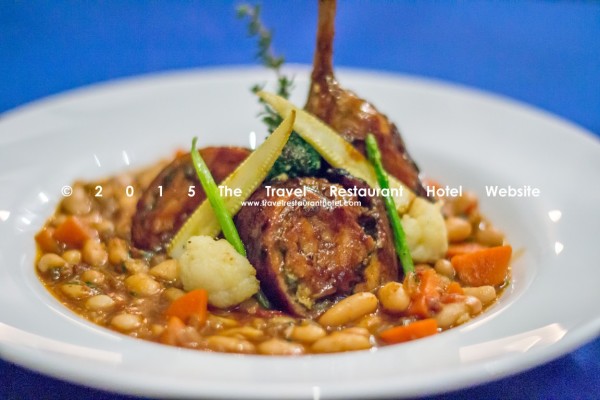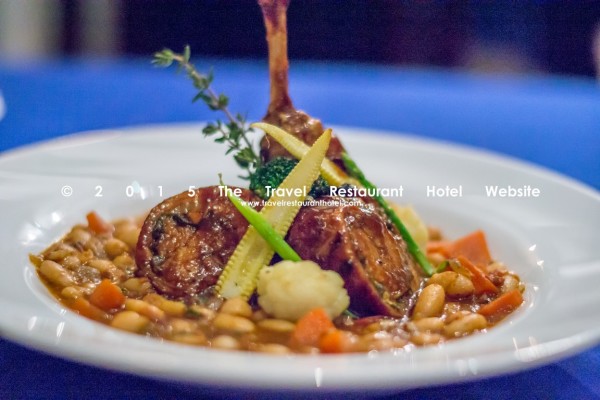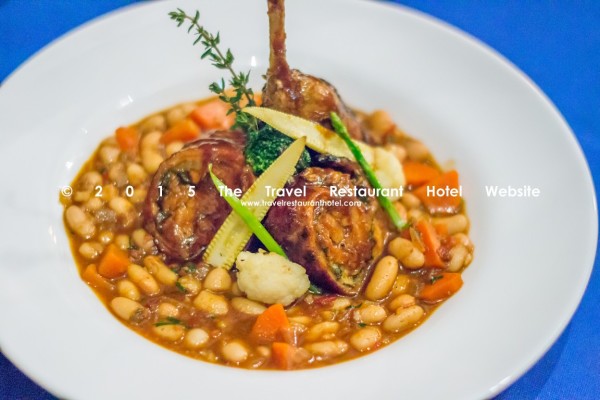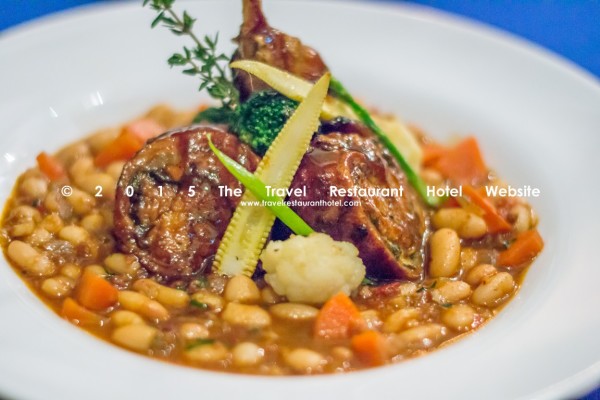 An excellent dessert is the restaurant's own "Antonio Porto Reserve".
Located away from the rowdy Cotai strip where all the tourists and integrated complexes are, the restaurant is nevertheless packed EVERY night.  It is also telling that the patrons are locals and not clueless tourists lured in by hype.  Reservations are a must here if you expect to get a seat.
Stuffed to the gills with accolades, this restaurant deserves each and every one of them.
繁體中文
這是一棟三層樓的漂亮黃色建築,"Antonio"在澳門是一個餐飲行業。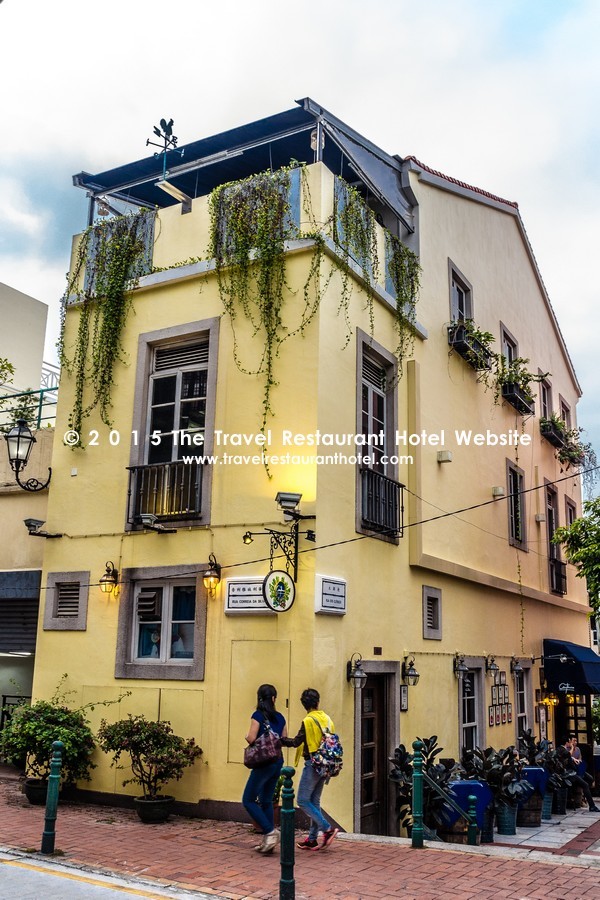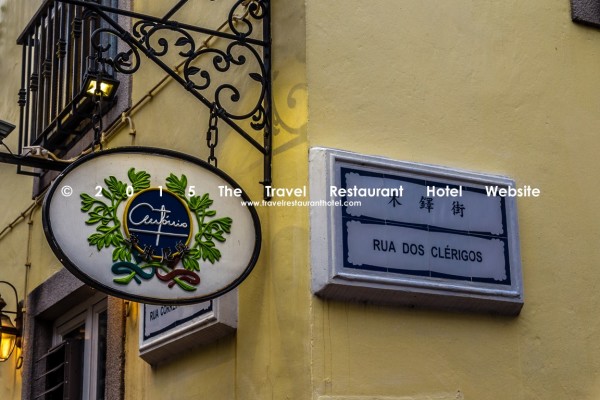 餐廳是由暗木色的窗簾與藍色桌布完美搭配,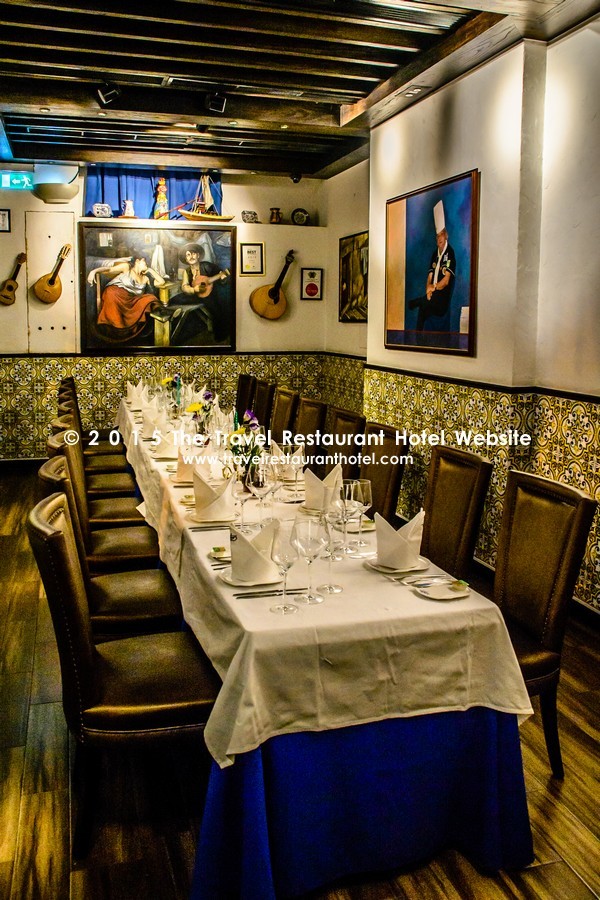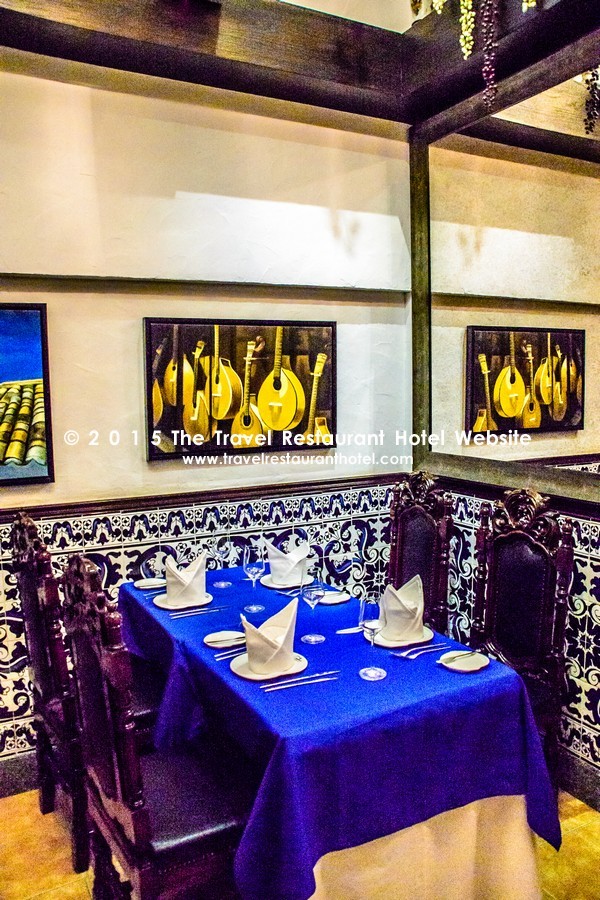 藍白色的瓷磚牆上掛著藍色的窗簾,花朵垂釣在天花板上和花園式的桌椅安排讓整個空間更加寬敞同時更加註入了讓人感到舒服受到歡迎的和諧感。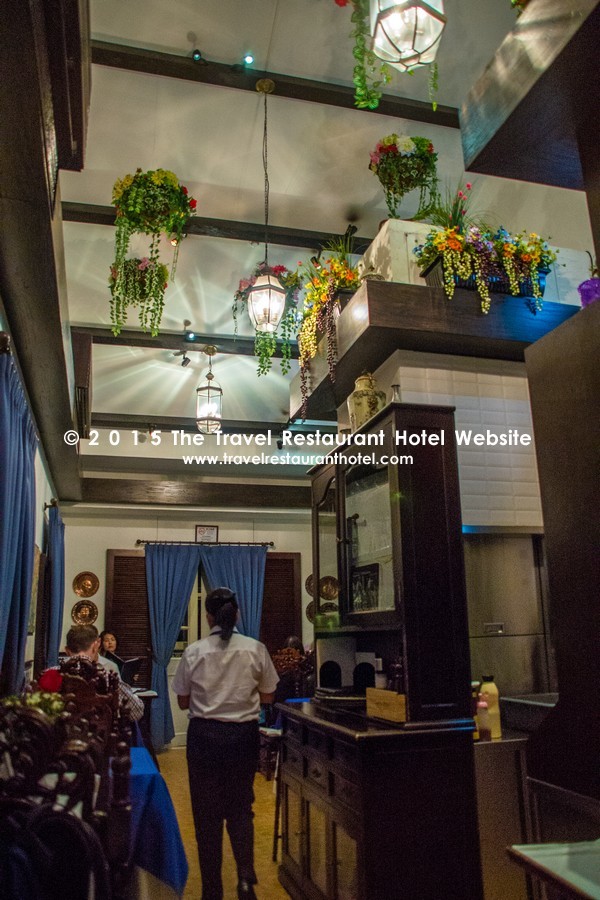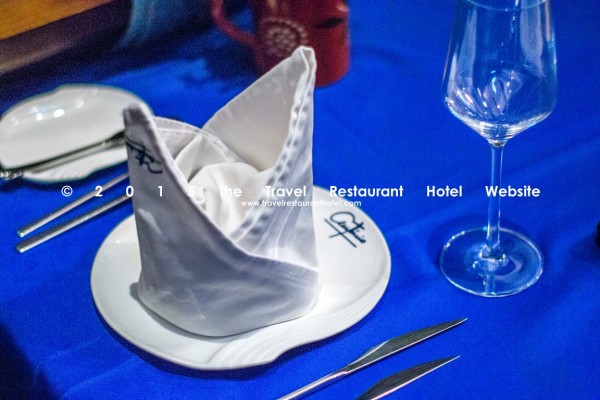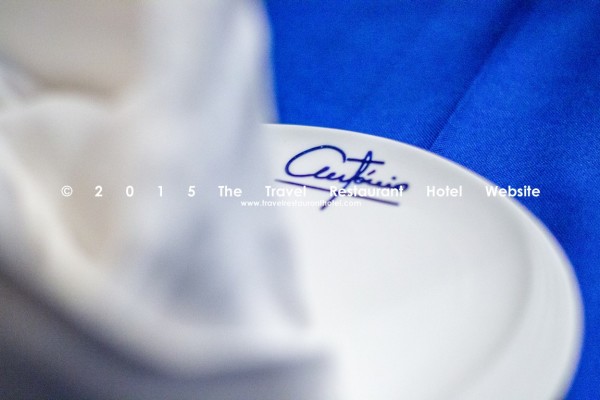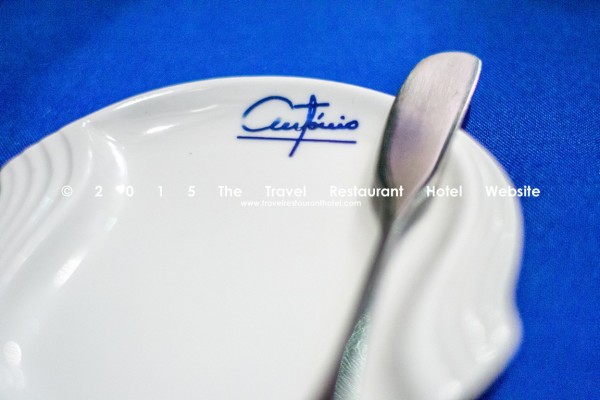 大蒜炒蝦仁
蒜味的刺激,是由輕拍過的大蒜經過火候的翻炒後更加提出了蒜味,也驚醒了沉睡中的嗅覺與視覺的感官體驗。
在這道開胃菜裡,冰涼並帶著輕微酸澀的Alvarinho是最完美的搭配。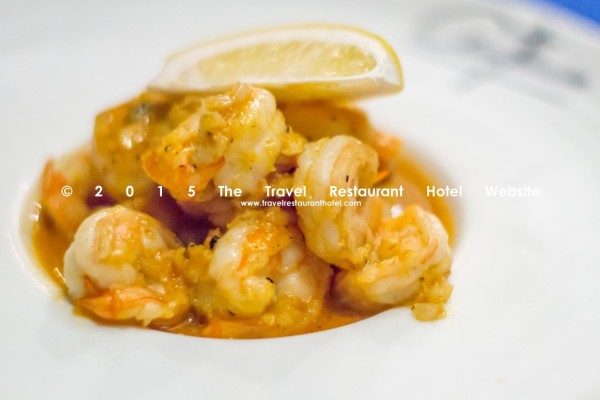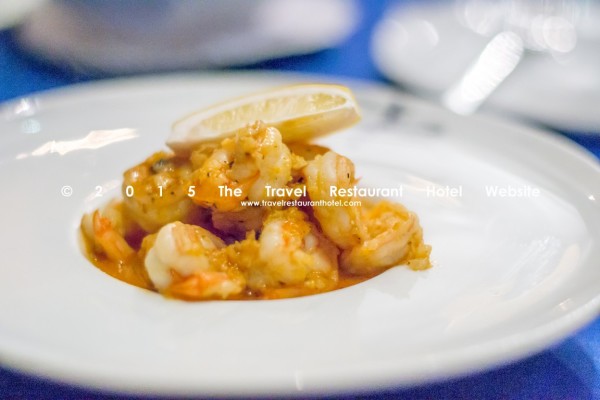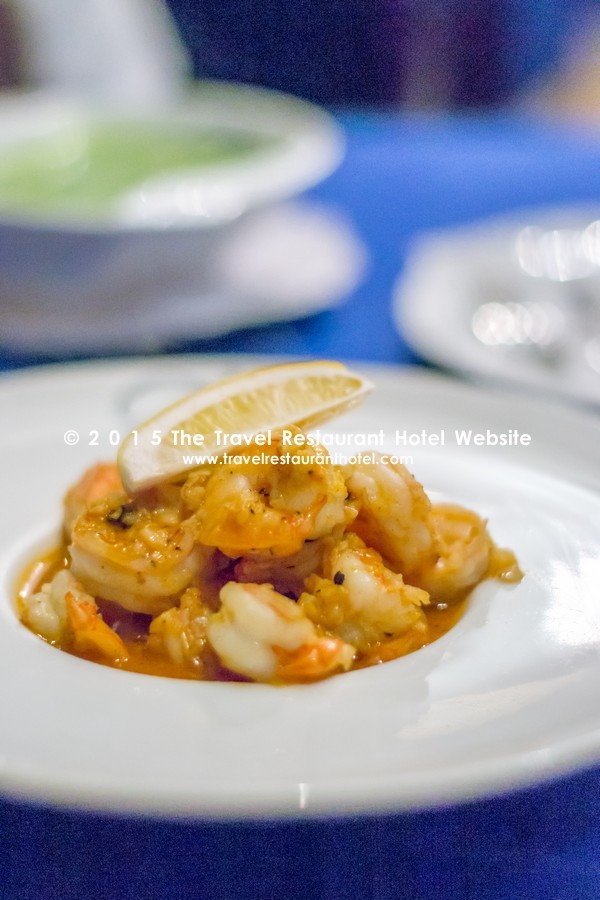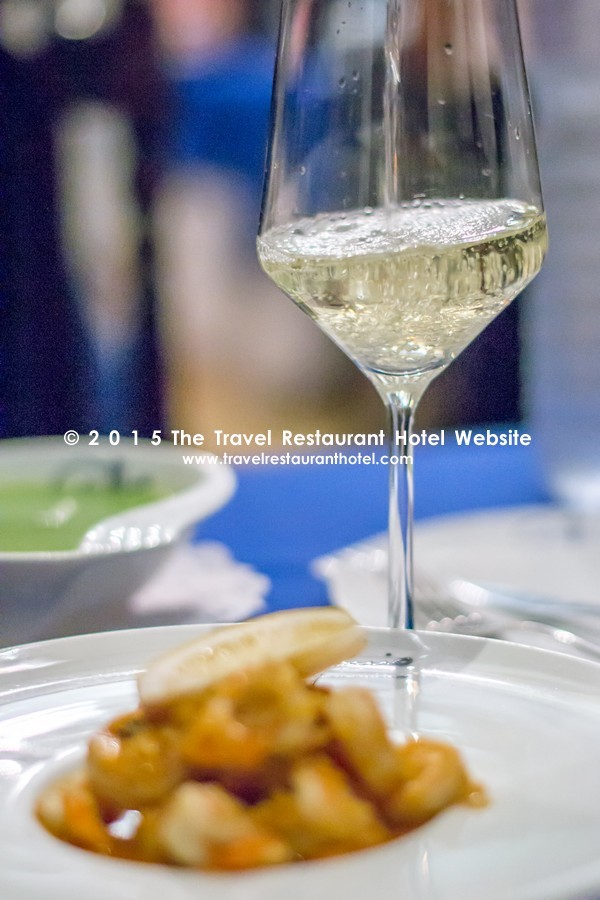 蘆筍濃湯
這湯是讓人驚訝的。這是我嚐過最濃綢的蘆筍奶油湯。
在這湯裡能品嚐到蘆筍裡又嫩又脆的口感,這只是為了增加湯的質量。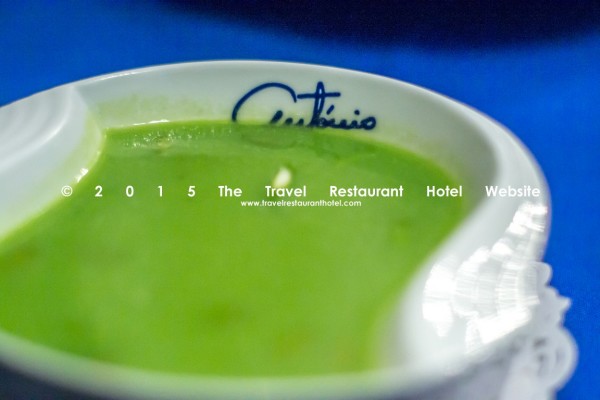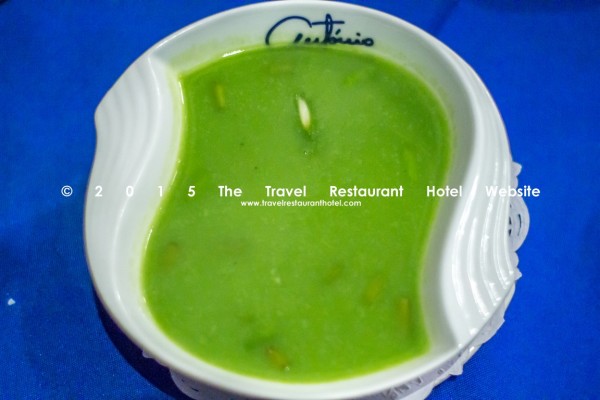 燉葡萄牙兔子與白豆
這兔子是從葡萄牙進口的。這又是另一道令人驚訝的菜餚。
這兔子是能讓人感到驚嘆滿足的同時並帶有它獨特風味。
這道菜雖然不是人氣菜餚,但是與周圍的豆類和蔬菜受到同等的待遇。
搭配軟軟的白豆,爽脆的小玉米和西蘭花,帶點厚度的胡蘿蔔,但能輕易的讓人咬開,每一樣都煮到完美。我感到訝異,廚師能對於每一樣食材的講究給予了同樣的關注。那份高水準的講究能讓這餐廳的每一樣食材彷彿會說話般地傳達出去。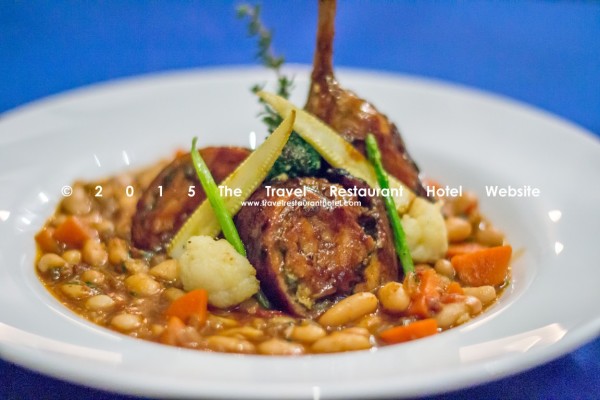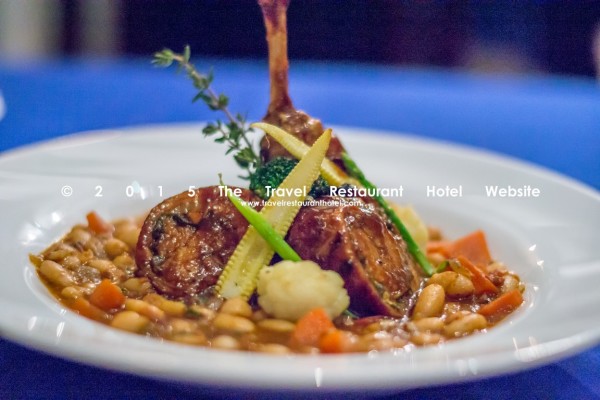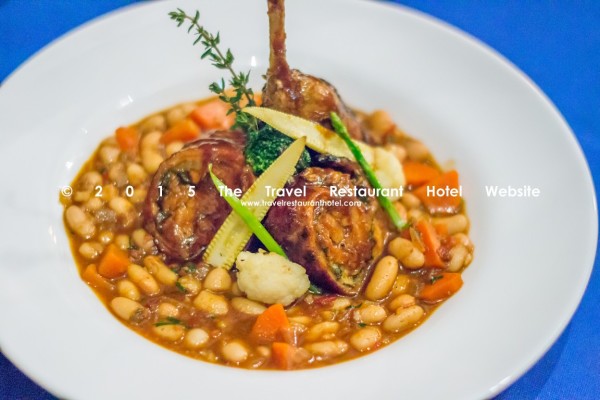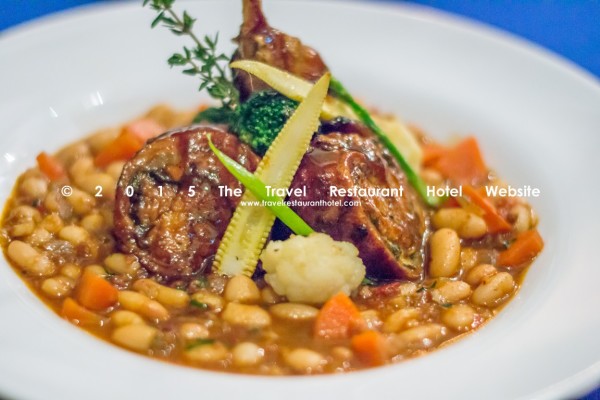 最熱銷的甜品是這家餐廳自創的"Antonio Porto Reserve"。
這家餐廳每一晚都是門庭若市的,雖然這裡的地理位置與環境,遠遠隔開了喧鬧的熱門景點與遊客,但這同時也可以充分地了解到這家餐廳是無需任何的炒作也能夠如此火紅。所以,如要光臨這家餐廳,您必須預先預約才能得到一個位子。
這是一家結合了好口碑和好食材的餐廳,絕對​​能讓每一位前來的客人感到值得與滿足。
(Visited 1 times, 1 visits today)