English
Housed in colonial building, the 134-room Sofitel So Singapore offers French elegance, chic and luxury.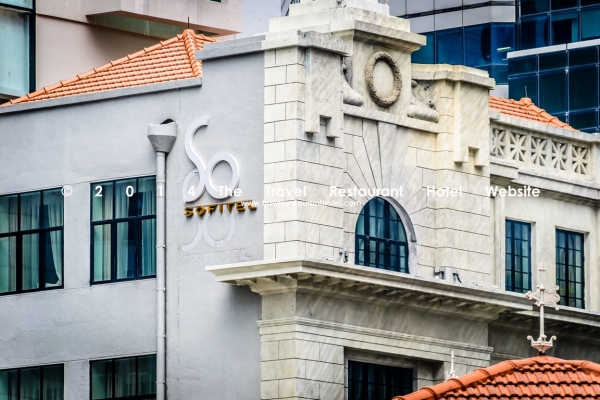 As soon as one walks though the revolving entrance, one is struck by the dazzling glass light installation hanging over pots of intense purple orchids. One is also struck by the amount of natural light flooding the lobby. Modelesque staff walk around the lobby in Karl Lagereld-designed Chanel uniforms.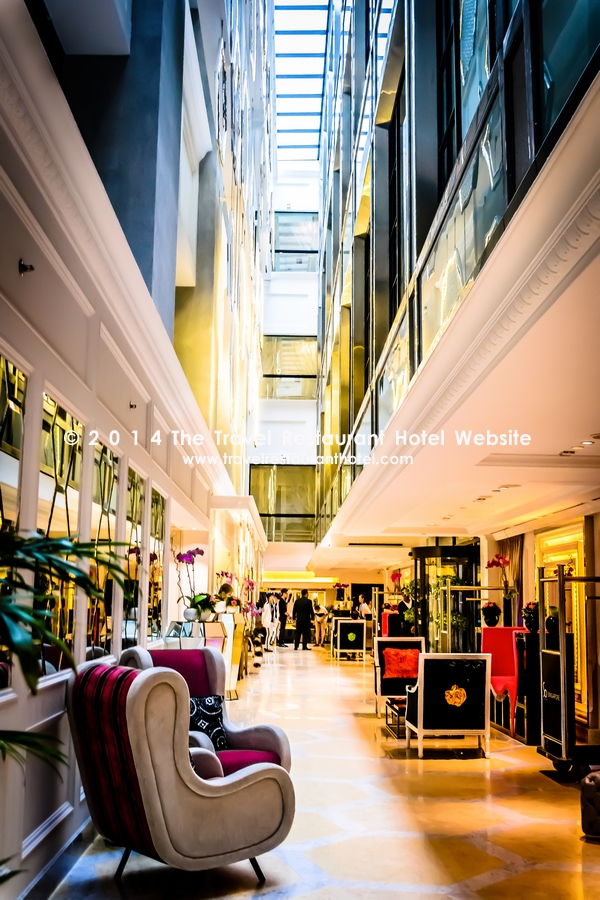 After you ride up to the upper floors in the elevators with transparent doors and quilted walls, you will find that the hotel itself is divided into two wings. The So-Hip wing consists of the smaller So Urban rooms. The Heritage wing consists of the larger So Heritage rooms. All So Urban rooms have the 'The Lion's Seal' emblem designed by Karl Lagerfeld on the front door.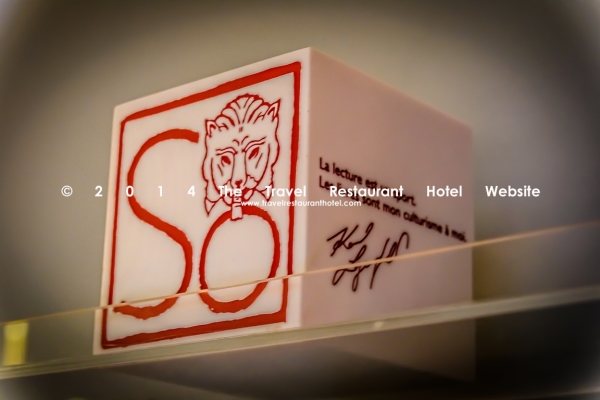 As one enters a So Urban room, one is welcomed by the elegant French design walls.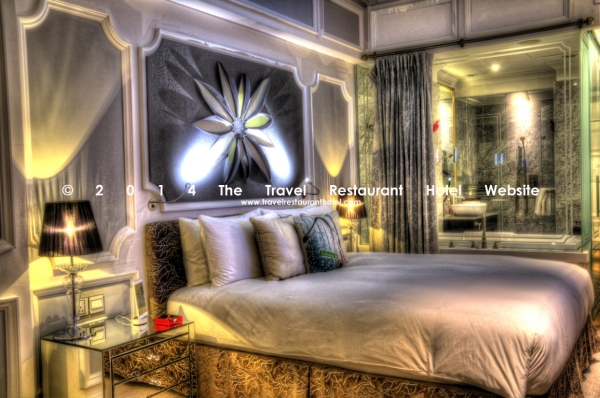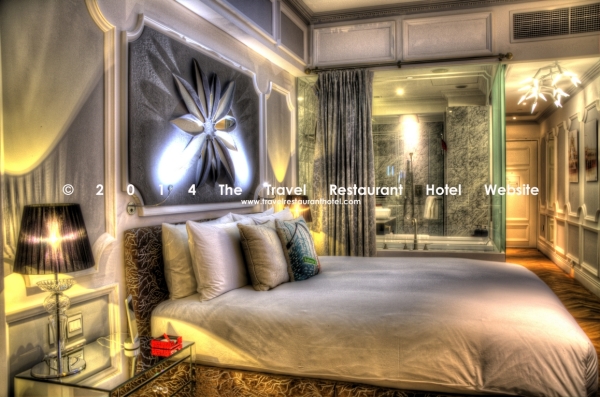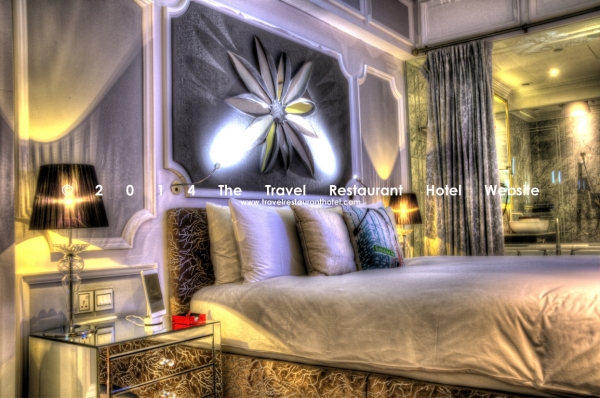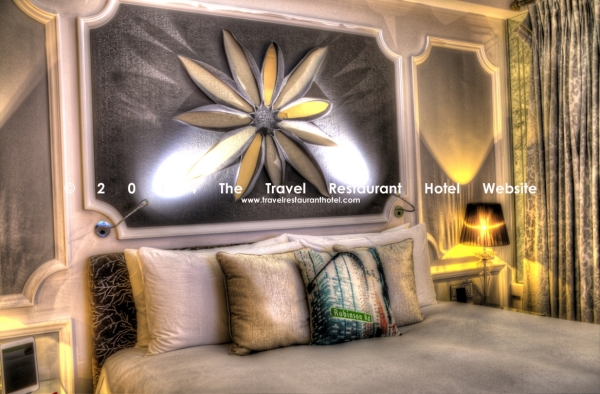 A pop art of Napoleon Bonaparte designed by Isabelle Miaja hangs in each room.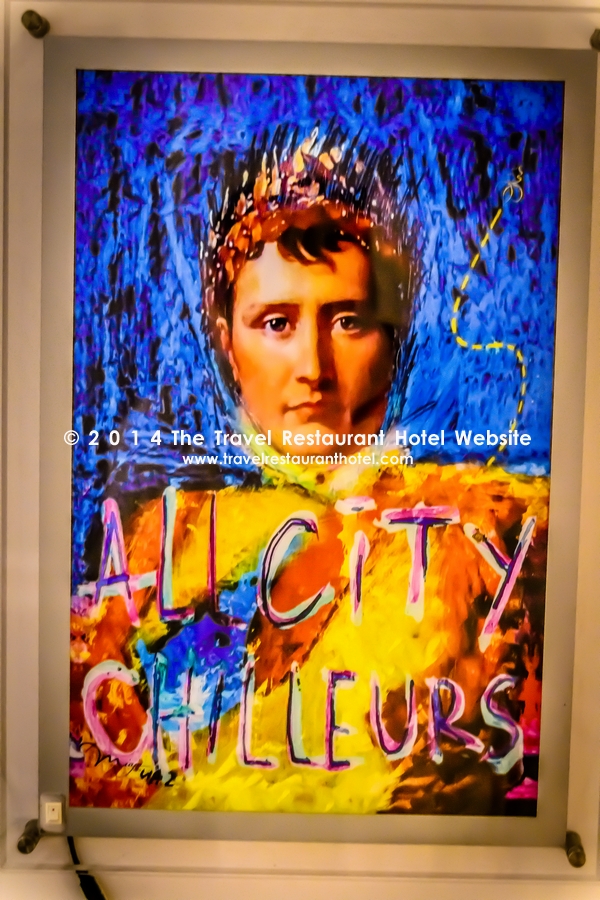 Light boxes inspired by French cupolas hang illuminated three meters above each signature Sofitel MyBed.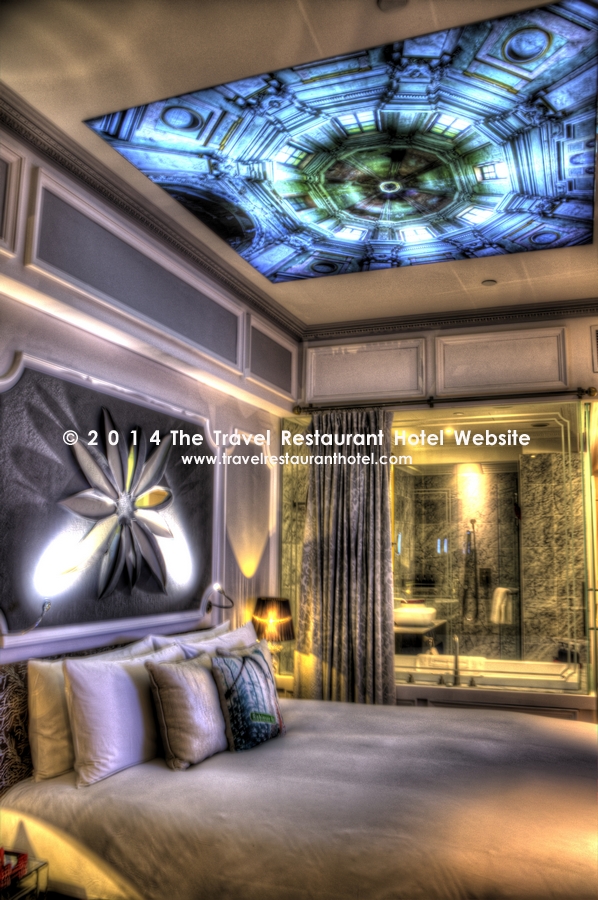 Separated from the bedroom by a glass wall is a large, marbled bathroom with separate bathtub and shower stall. Instead of hooks, they have funky wall installations on which you can hang your towels and clothes. Sofitel So has its own signature scent, Urban Forest, formulated and available exclusively to this hotel. Formulated in Grasse, France and evoking the scents of spices, local flowers and topical woods, the shampoo, conditioner and shower gel all contain this signature scent. The hotel has also thoughtfully provided a small vial of Urban Forest eau de parfum. I don't know how but somehow when I got home, I found the eau de parfum in my suitcase.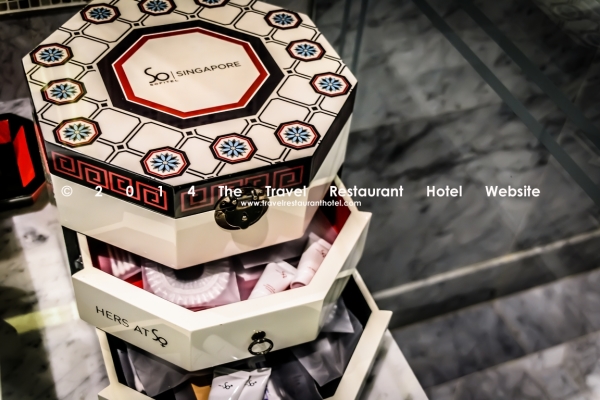 In each room is a private bar. There is an Illy coffee machine. The vote, has thoughtfully provided three espresso capsules. Their thoughtfulness extends to provide a selection of complimentary snacks and beverages—- there are health bars, M&Ms, salty snacks, spicy snacks, soft drinks and beer. There are also bottles of wine in the bar but these are chargeable.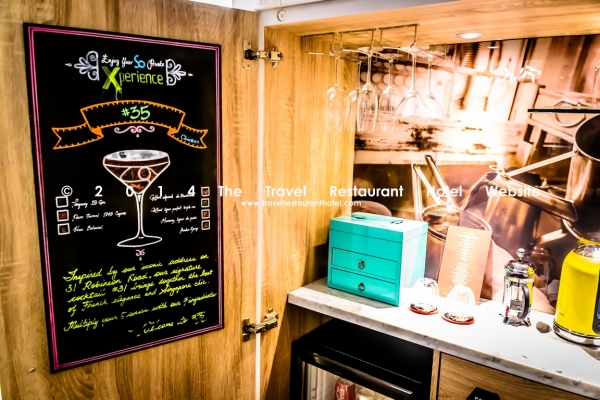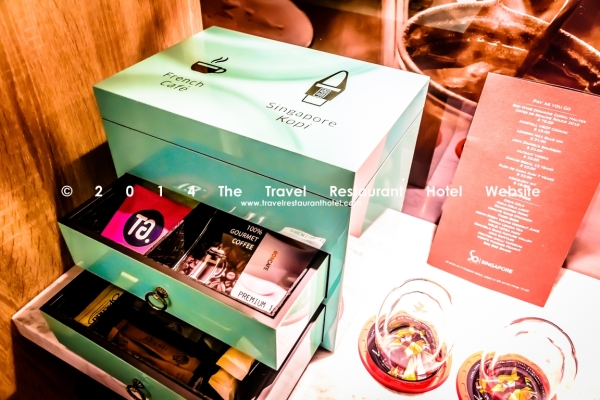 Sofitel So understands the need to stay connected, so the hotel has generously provided complimentary wifi. On top of that, they have provided unlimited complimentary landline calls (only to landline numbers). You can make your calls through the Apple phone they have provided. To access control of the curtains, alarm clock and lighting moods, you can do so on the iPad provided beside your bed. This is probably the most technologically advanced hotel I have been in.
Other benefits of this luxurious room:
Daily international and local newspapers upon request.
So stylish in-room magazines
So Singapore Wine and Dine welcome amenities
Daily breakfast inclusive of French champagne.
Daily Wine and Dine S$30 credit valid at Xperience Restaurant and Bar.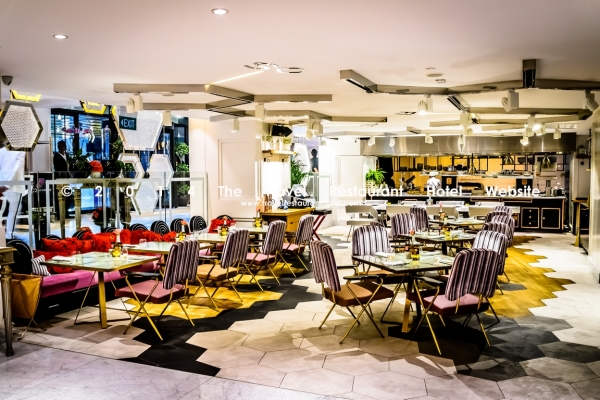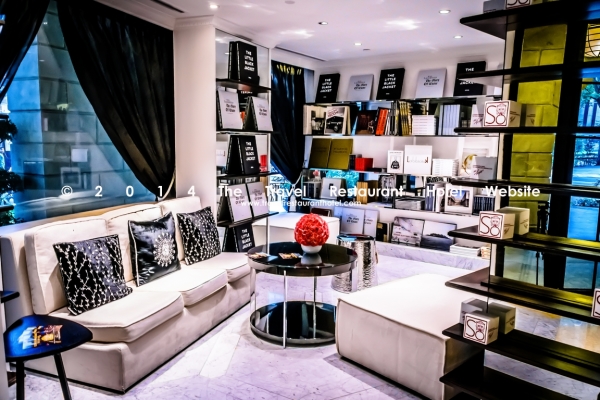 Complimentary laundry, dry cleaning or pressing service for 2 garments per day.
Should you feel restless, you can try out the rock-climbing wall in the small gym.
Alternatively, you may want to take dip in the gold-tiled rooftop swimming pool and admire the surrounding city skyline.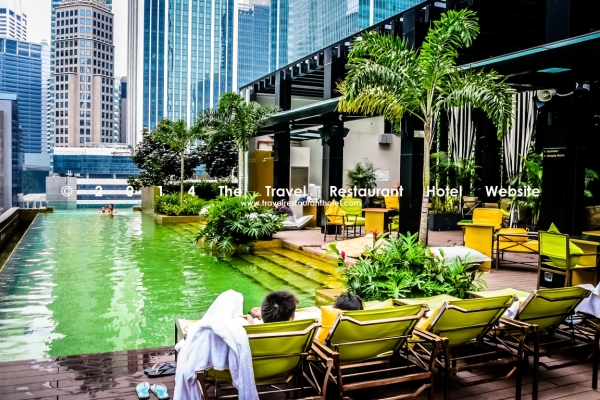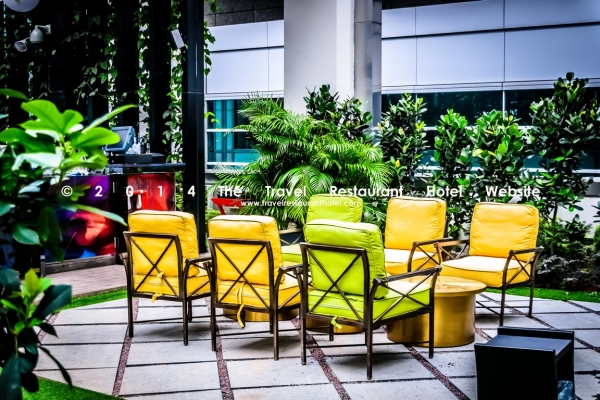 For epicurean pleasures, you may want to savour excellent fusion cuisine at Xperience, helmed by celebrity chef Mrs. Anne-Cecile Degenne.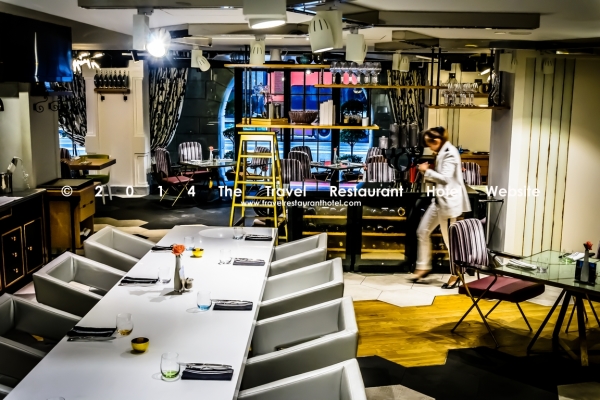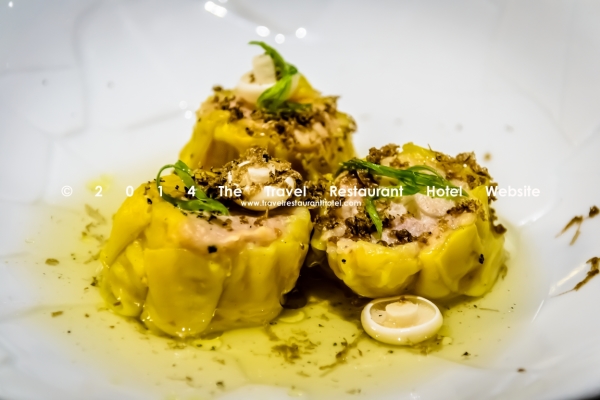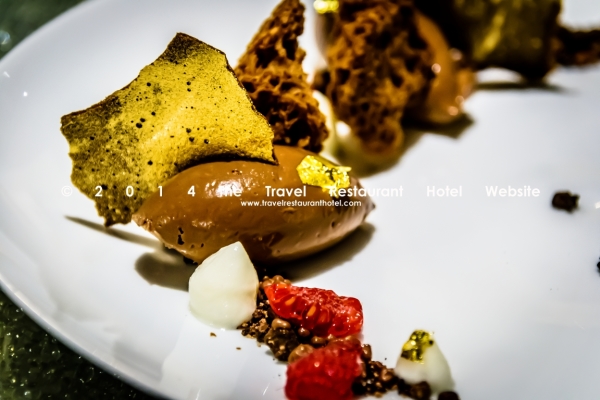 Located near Raffles Place, in the heart of Singapore's Central Business District, the hotel is minutes away from the city's landmarks.Embrace the cosmopolitan vibe of the island – taste the culinary wonders of Lau Pa Sat and Chinatown, shop at Orchard Road, be part of the nightlife at Clarke Quay and Boat Quay, and enjoy the attractions of Marina Bay.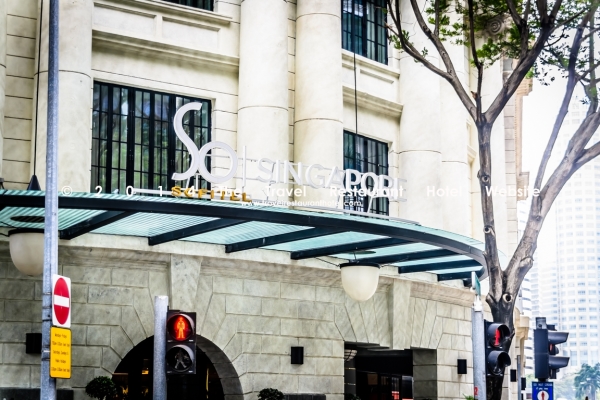 Whether you are traveling for business, leisure, or family fun, timeless French elegance blended with modern Singapore chic at Singapore's top luxury boutique hotel is always a good choice.
Italiano
Ospitato in un edificio dallo stile coloniale, il Sofitel So Singapore, dotato di 134 camere, offre al pubblico un'eleganza, un fascino ed un lusso tipicamente francesi.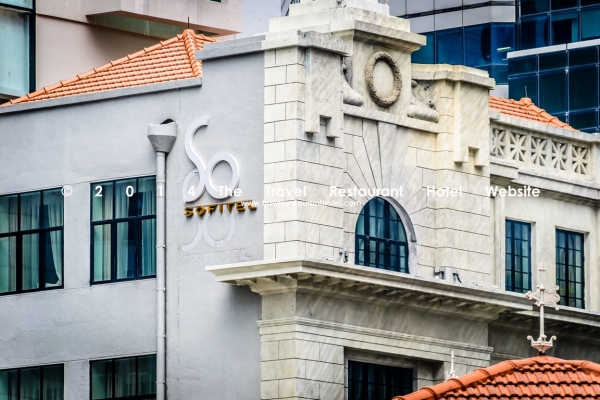 Entrando dalle porte girevoli si viene immediatamente colpiti dall'abbagliante installazione luminosa in vetro sospesa su vasi di orchidee di un colore viola intenso, per non parlare della quantità di luce naturale che inonda la hall. Il personale, dall'aria glamour, si aggira nell'atrio vestendo uniformi firmate Chanel, disegnate espressamente da Karl Lagerfeld.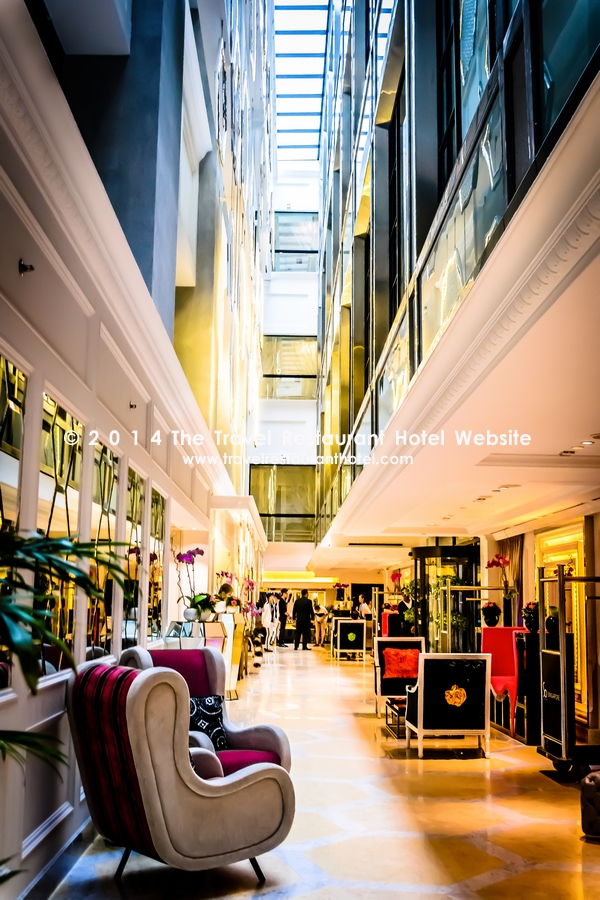 Salendo verso i piani più alti attraverso ascensori con porte trasparenti e pareti trapuntate, si può notare come l'hotel si divida in due ale. L'ala denominata So-Hip è caratterizzata da stanze più piccole denominate So Urban, mentre l'ala Heritage è caratterizzata da stanze più ampie chiamate So Heritage. Tutte le stanze So Urban possiedono sulla porta d'ingresso l'emblema del leone marino disegnato da Karl Lagerfeld.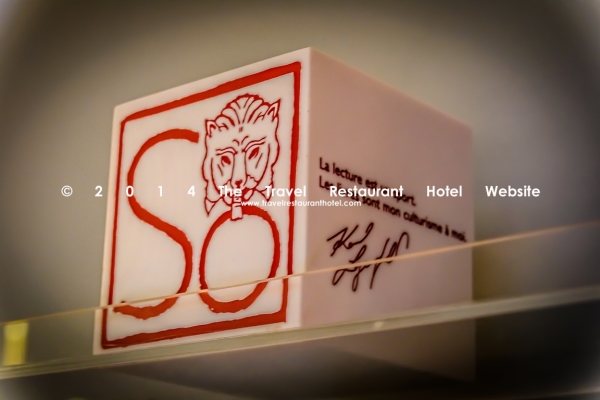 Entrando in una qualsiasi delle stanze So Urban ci si sente i benvenuti tra le pareti dall'elegante design in stile francese e si può apprezzare un quadro pop art ritraente Napoleone Bonaparte disegnato da Isabelle Miaja.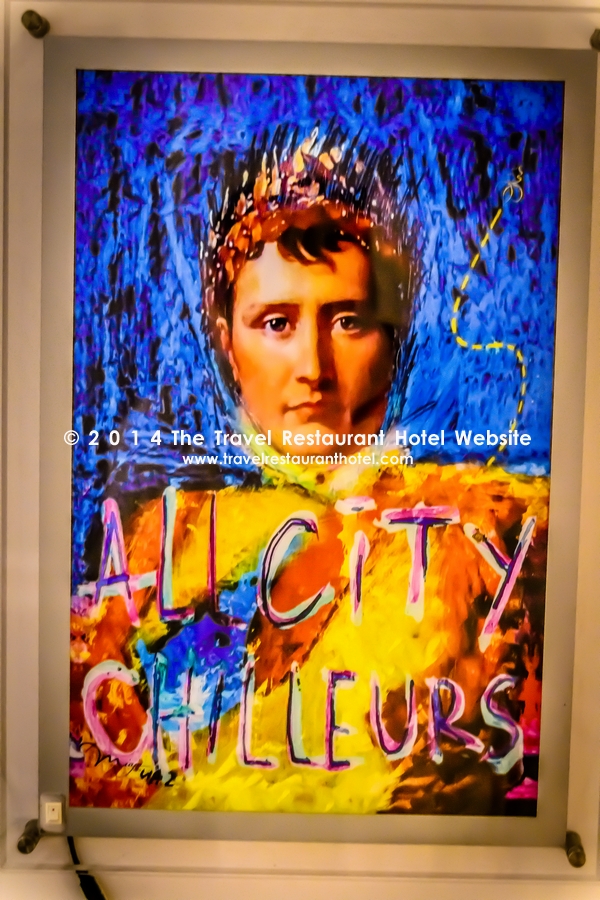 I cubi di luce ispirati a cupole francesi sono installati a tre metri d'altezza sopra ai letti firmati Sofitel MyBed.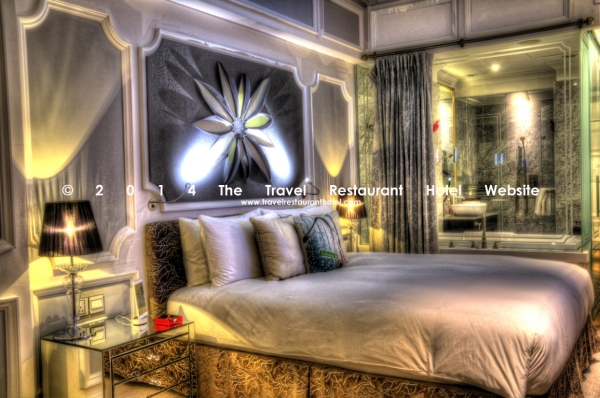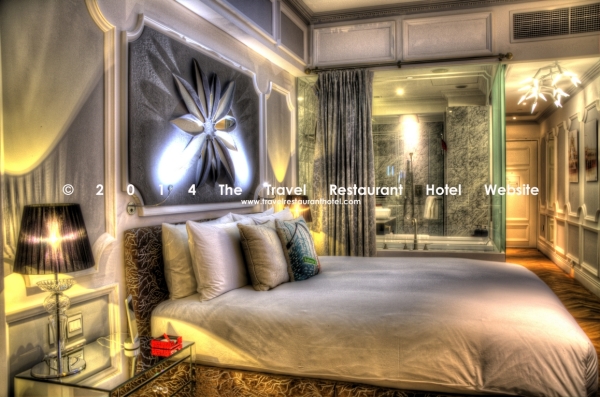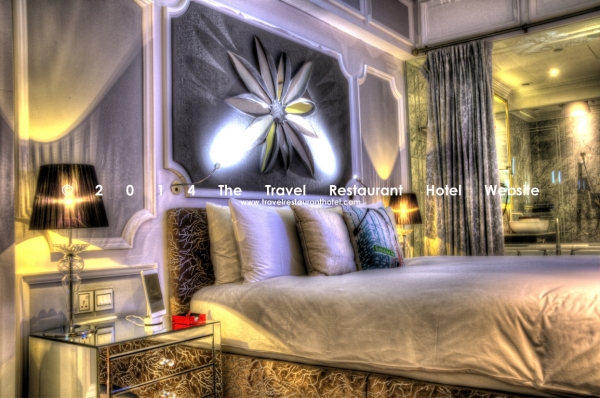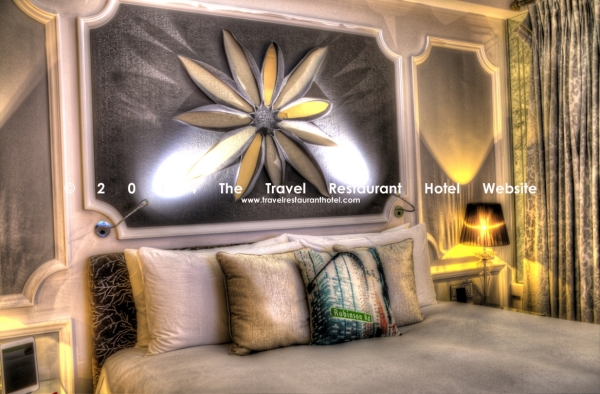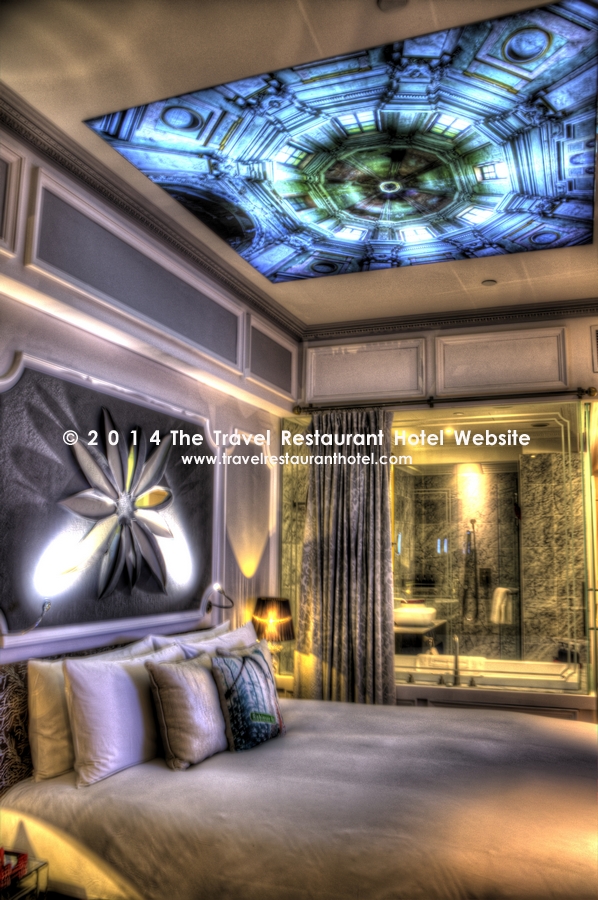 Diviso dalla stanza da letto tramite una spessa parete di vetro si trova il bagno di marmo, con vasca da bagno separata e cabina doccia. Al posto di appendiabiti vi sono eccentriche installazioni da parete su cui appendere i propri asciugamani e vestiti. Il Sofitel So possiede la sua personale fragranza per ambienti "Urban Forest" (Foresta Urbana), formulata e disponibile esclusivamente in questo hotel. Formulata a Grasse, in Francia, e attraverso l'utilizzo di       , anche lo shampoo, il balsamo e il gel doccia contengono questa fragranza unica. L'hotel ha anche previdentemente fornito una piccola fiala contenente il profumo Urban Forest. Non so proprio come sia potuto succedere, ma in qualche modo, al mio arrivo a casa, mi sono ritrovato in valigia una fiala di profumo.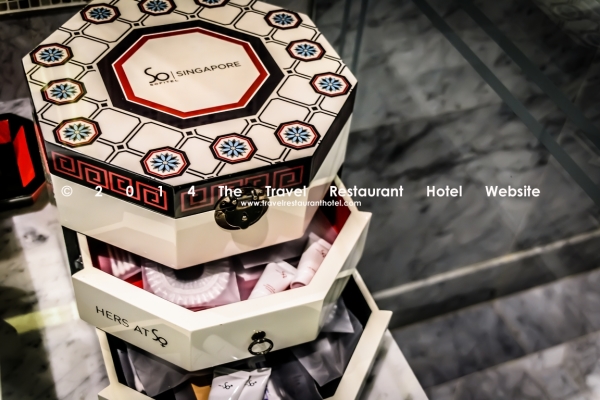 In ogni stanza c'è un bar privato fornito di una macchina per caffè Illy, dotata di tre capsule per l'espresso. La loro lungimiranza si estende anche alla dotazione di snack e bevande in omaggio, tra cui barrette dietetiche, M&Ms, snack salati, snack piccanti, bevande analcoliche e birra. Nel bar vi sono inoltre bottiglie di vino, ma in questo caso a pagamento.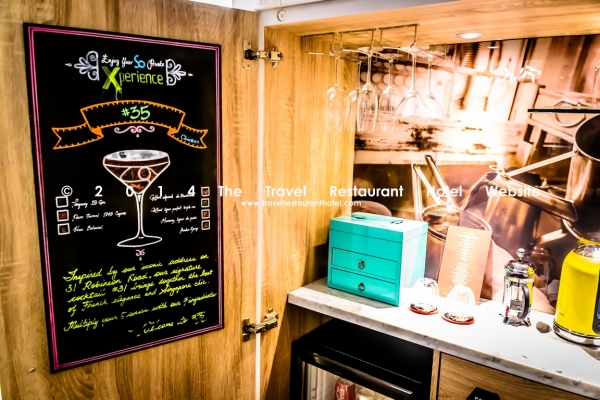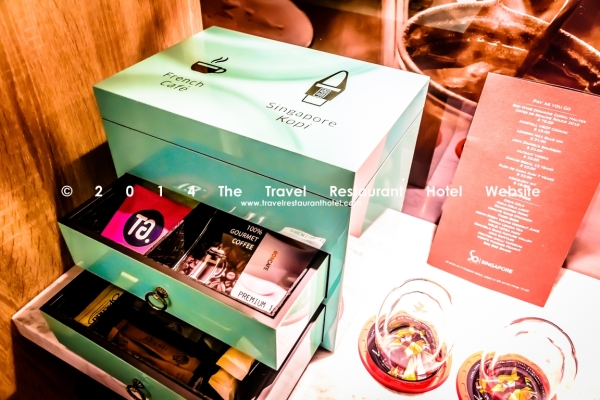 Sofitel So comprende il bisogno di rimanere connessi e per questo motivo l'hotel offre un servizio wifi gratuito. Inoltre, permette di effettuare in modo gratuito chiamate illimitate verso numeri fissi, magari tramite il telefono Apple messo a disposizione in stanza. Per accedere al controllo dell'apertura tende, alla sveglia o al controllo dell'illuminazione si può utilizzare l'iPad posizionato di fianco al letto. Questo è probabilmente l'hotel tecnologicamente più avanzato che io abbia mai visitato.
Ulteriori benefici di questo lussuoso tipo di stanza includono:
Quotidiani internazionali e locali giornalmente disponibili su richiesta.
Riviste di moda in stanza.
Servizi di invito a cena come benvenuto da So Singapore.
Colazione giornaliera con champagne francese incluso.
Credito giornaliero di S$30 per la cena, valido nel ristorante Xperience e al bar.
Servizio gratuito di lavanderia e asciugatura o stiratura per 2 capi al giorno.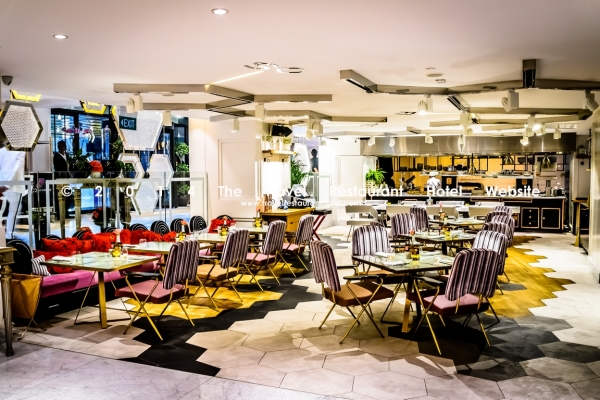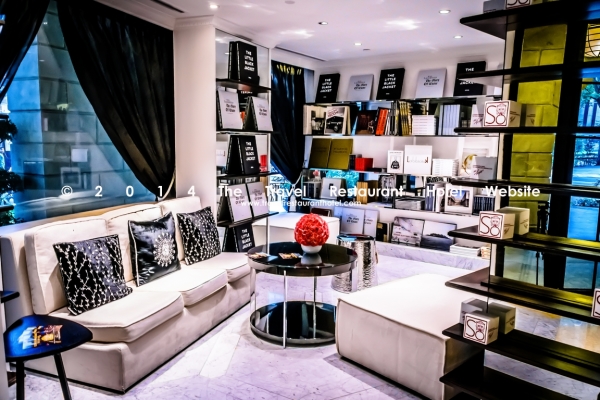 Nel caso in cui vi sentiste irrequieti, potete provare a scalare la parete d'arrampicata della piccola palestra. In alternativa, potreste volervi immergere nella piscina con il pavimento in piastrelle d'oro del tetto ed ammirare lo skyline dei dintorni della città. Per piaceri epicurei potreste invece voler assaporare l'eccellente cucina fusion presso l'Xperience, ristorante sotto la guida della celebre chef Anne-Cecile Degenne.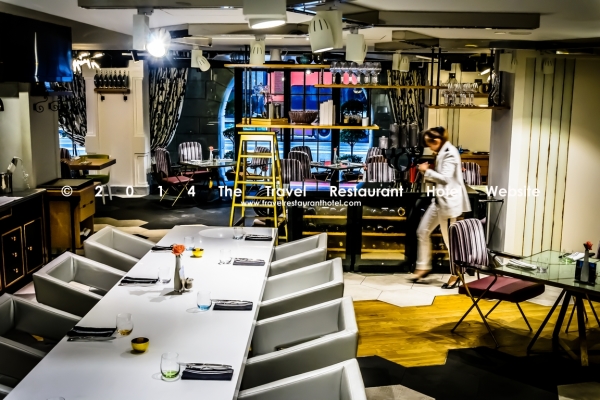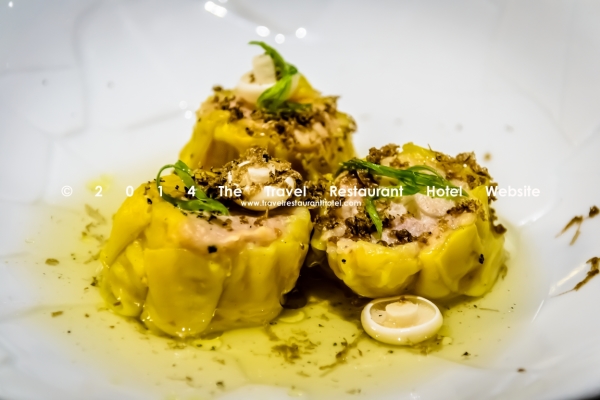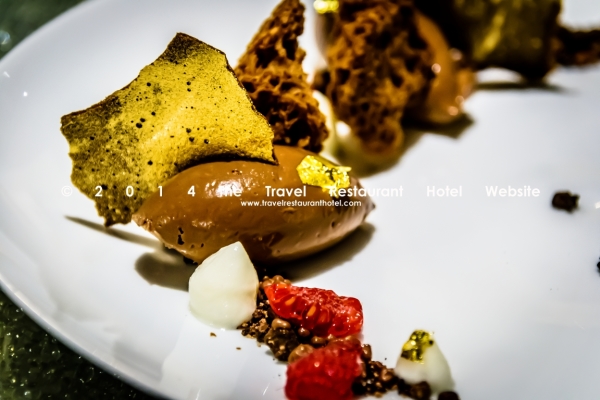 Situato nei pressi di Raffles Place, nel cuore del Distretto Commerciale centrale di Singapore, l'hotel si trova a pochi minuti di distanza dai luoghi storici della città. Abbracciate l'atmosfera cosmopolita dell'isola, assaggiate le meraviglie culinarie di Lau Pa Sat e Chinatown, fate shopping a Orchard Road, siate parte della vita notturna di Clarke Quay e Boat Quay e godetevi le attrazioni di Marina Bay.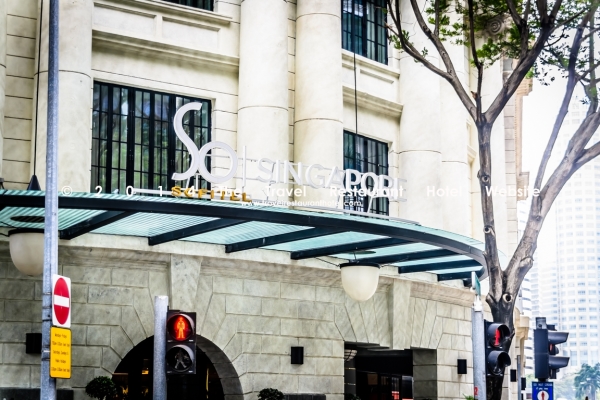 Español
Alojado en un edificio colonial, la habitación 134 del Sofitel So Singapore ofrece elegancia francesa, belleza y lujo.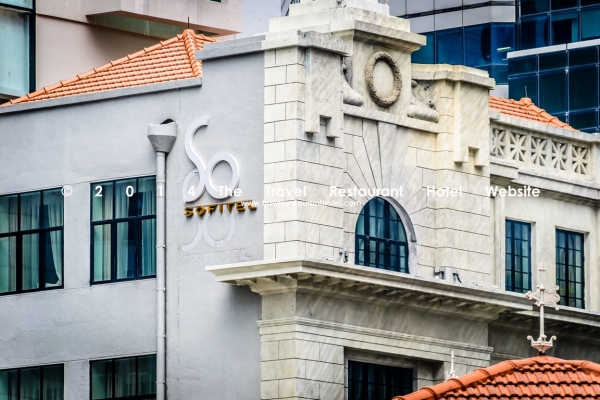 Tan pronto como uno pasa a través de la puerta giratoria, se siente prendado por una deslumbrante instalación luminosa de cristal que flota sobre tiestos de orquídeas de intenso púrpura. También llama la atención la cantidad de luz natural que inunda el vestíbulo. El personal de Modelesque va por el vestíbulo en uniformes de Chanel diseñados por Karl Lagereld.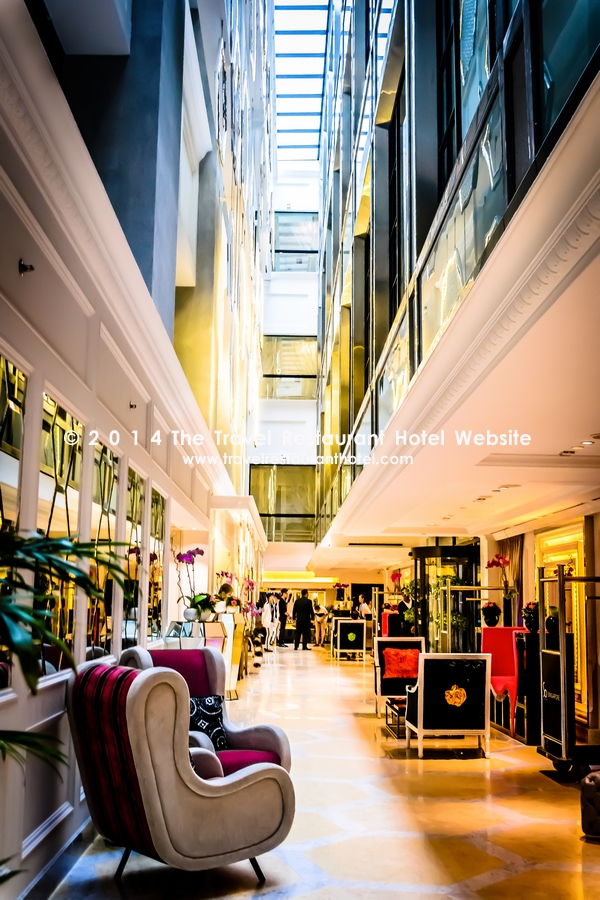 Después de subir a las plantas superiores en los ascensores de puertas transparentes y paredes acolchadas, descubrirá que el hotel en sí mismo está dividido en dos secciones. El ala So-Hip está compuesta por las habitaciones más pequeñas So Urban. El ala Heritage se compone por las habitaciones de mayor tamaño So Heritage. Todas las habitaciones So Urban tienen en la puerta de entrada el emblema de "The Lion's Seal" diseñado por Karl Lagerfeld.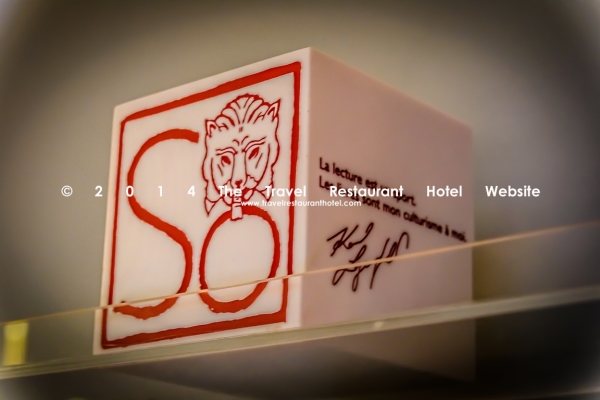 Cuando se entra a una habitación So Urban, le acogen unas paredes de elegante diseño francés. En cada habitación cuelga una pintura pop de Napoleon Bonaparte diseñada por Isabelle Miaja.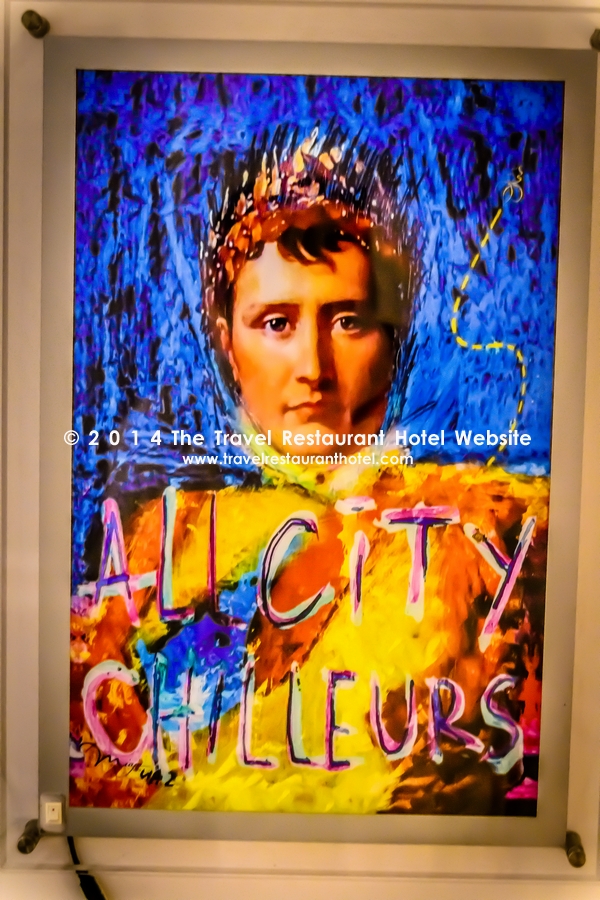 Cajas de luz inspiradas por cúpulas francesas cuelgan a tres metros sobre cada cama de firma Sofitel MyBed.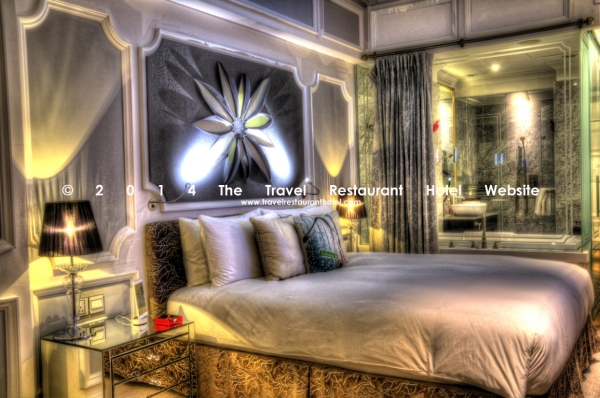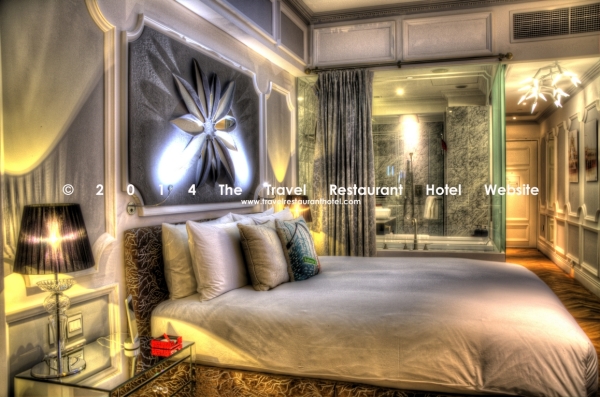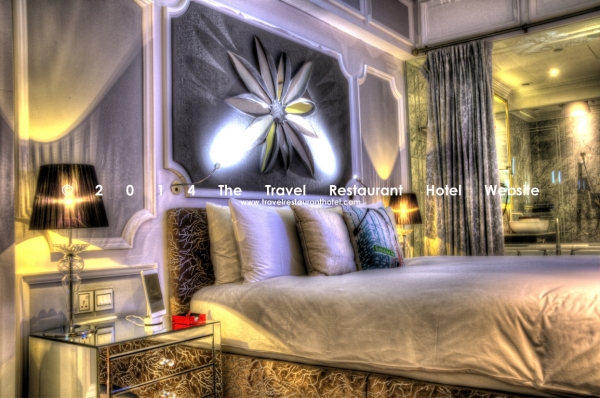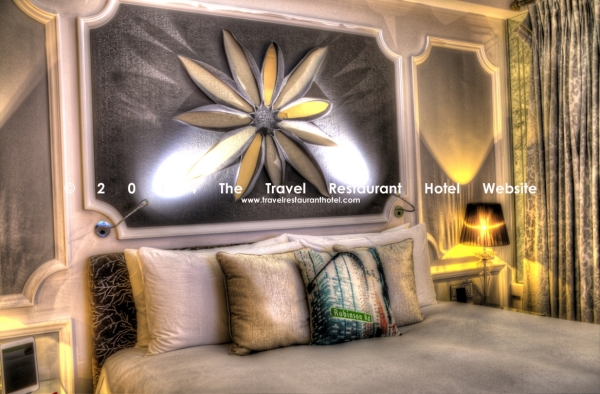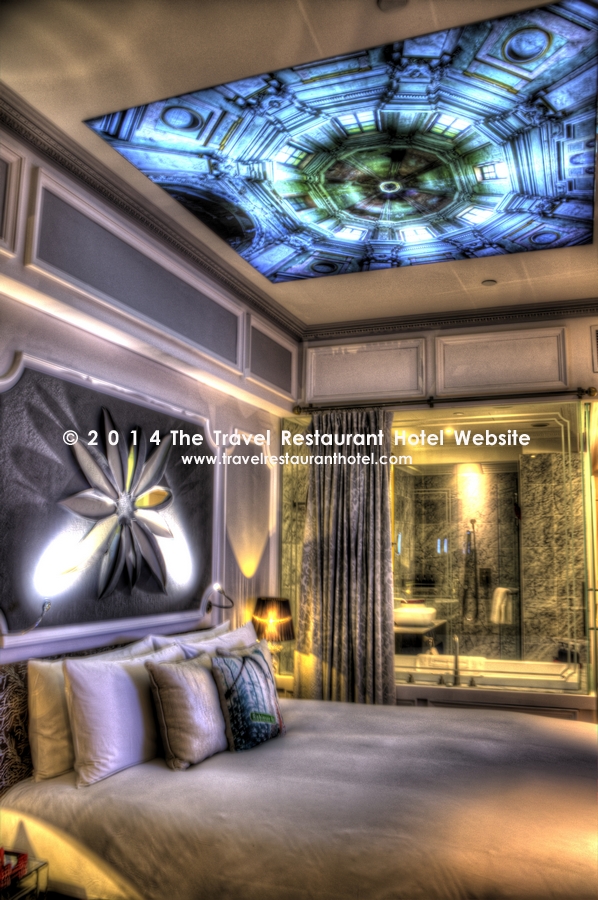 Separado del dormitorio por una gran pared de vidrio hay un cuarto de baño de mármol con bañera y ducha. En lugar de ganchos tienen unas instalaciones de moda en la pared donde colgar sus toallas y ropa. Sofitel So tiene su propia esencia registrada, Urban Forest, desarrollada en exclusiva para este hotel. Preparada en Grasse, Francia y usando, el champú, acondicionador y gel de ducha contienen esta esencia registrada. El hotel también proporciona atentamente un pequeño frasco de perfume Urban Forest. No sé cómo pero de alguna manera al llegar casa me encontré con este perfume en mi maleta.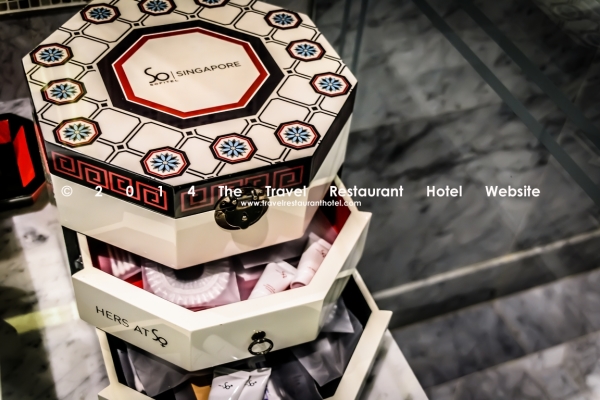 En cada habitación hay un minibar. Hay una cafetera Illy. Proporcionan atentamente tres cápsulas de café expresso. Su consideración se extiende a ofrecer una selección de aperitivos y bebidas de cortesía —- hay barritas nutritivas, M&Ms, aperitivos salados, tentempiés picantes, refrescos y cerveza. Hay también botellas de vino en el bar pero estas son de pago.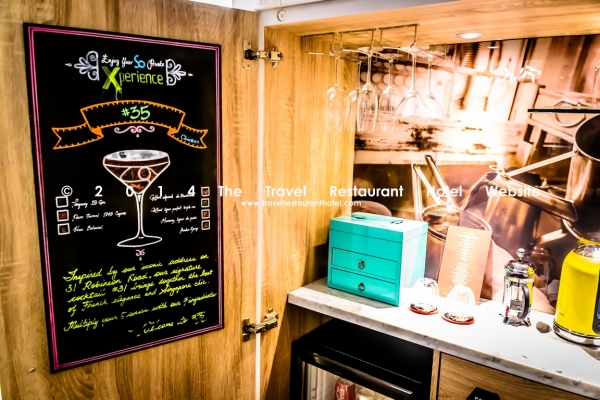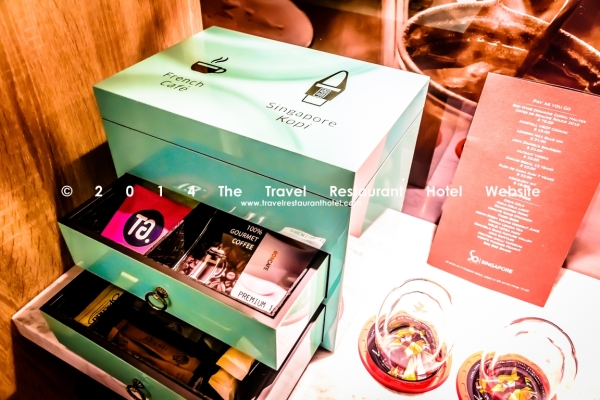 Sofitel So comprende la necesidad de mantenerse conectado, por lo que el hotel porporciona generosamente Wifi gratuito. Además de eso, proporcionan llamadas a fijo gratuitas e ilimitadas (sólo números fijos). Puede hacer sus llamadas a través del teléfono de Apple que ellos suministran. Para acceder al control de las cortinas, de la alarma y la iluminación, puede hacerlo mediante el iPad que hay dispuesto al lado de su cama. Probablemente sea el hotel tecnológicamente más avanzado en el que he estado.
Otros beneficios de esta lujosa habitación:
Prensa local e internacional a petición.
Revistas de moda en la habitación.
Servicios de bienvenida de vino y cena.
Desayuno diario con champán francés.
Crédito de 30$ válido para cena y vino en la Xperience del restaurante y bar.
Lavandería de cortesía, limpieza en seco y planchado de 2 prendas al día.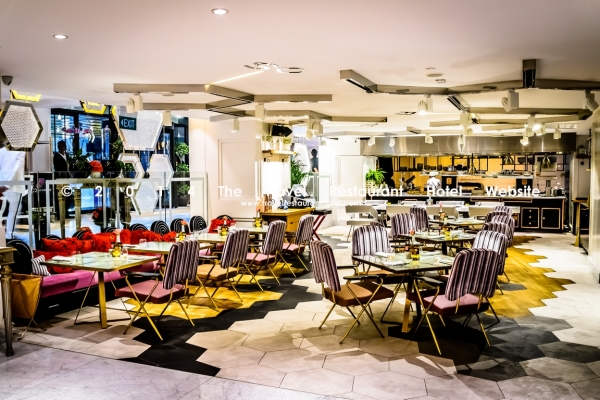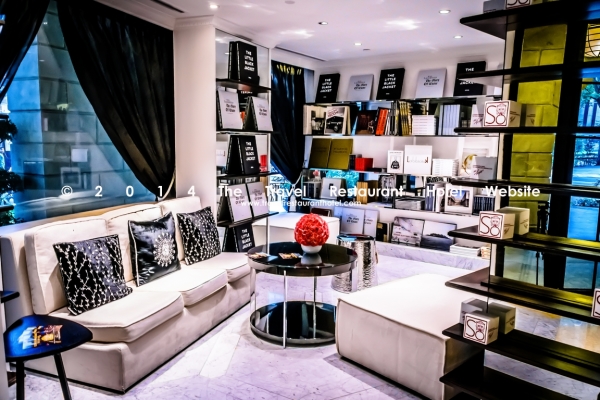 Si se siente nervioso, puede probar la pared de escalada del pequeño gimnasio. Alternativamente es posible que quiera probar a darse un chapuzón en la piscina de baldosas doradas y admirar el horizonte de la ciudad que le rodea. Para placeres epicúreos, puede que quiera probar una excelente cocina de fusión en Xperience, dirigida por la famosa cocinera Mrs. Anne-Cecile Degenne.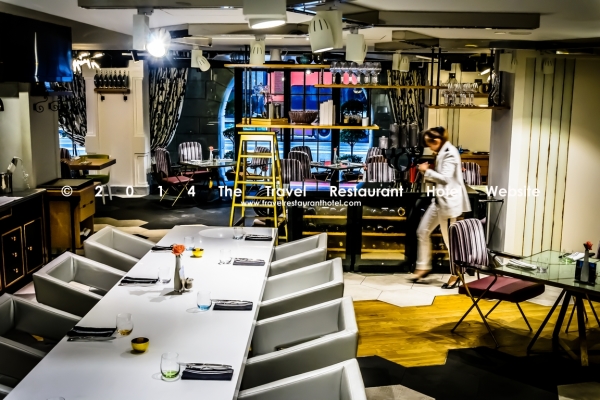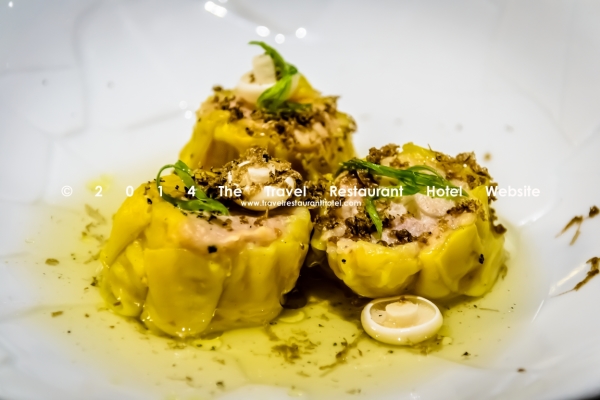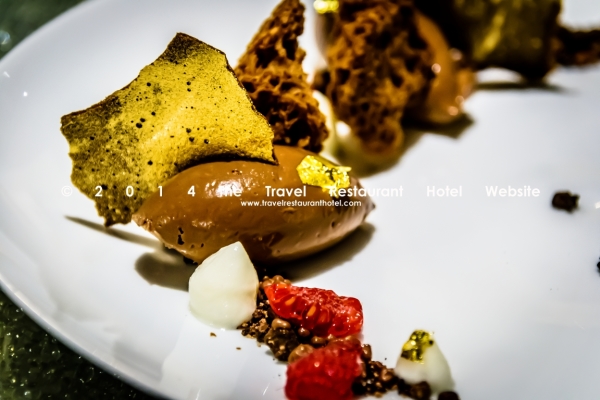 Localizado cerca de la plaza Raffles, en el corazón del distrito central de negocios de Singapore, el hotel está a unos minutos de los lugares emblemáticos de la ciudad. Abrace el ambiente cosmopolita de la isla – deguste las maravillas culinarias de Lau Pa Sat y Chinatown, compre en Orchard Road, forme parte de la vida nocturna en Clarke Quay y Boat Quay, y disfrute de las atracciones de Marina Bay.
Si está de viaje por negocios, placer o diversión en familia, la elegancia atemporal francesa combinada con la belleza de la Singapore moderna en el principal hotel boutique de lujo de Singapore es siempre una buena elección.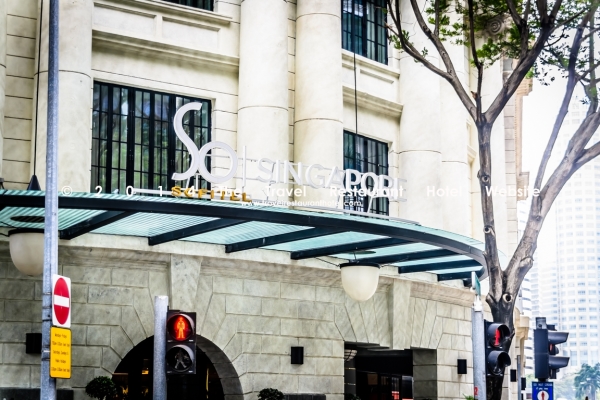 (Visited 5 times, 1 visits today)