Six Stars Massage is located right opposite Swiss-Belhotel Harbour Bay and Harbour Bay Mall, and is only a 5-min walk from Harbour Bay Ferry Terminal.  It is also only 5 mins by taxi from Nagoya Hill Shopping Mall. The taxi fare between Nagoya Hill Shopping Mall and Harbour Bay Mall should cost around IDR$30,000.
Six Stars Massage is cleaner and cheaper than Isabella Massage which has been recommended by Ladyironchef and other bloggers (Isabella has been renamed to Majesty Spa).  It only makes sense that Six Stars is cheaper than Isabella Massage, as Six Stars does not provide pick-up and drop-off transport, unlike Isabella Massage.  Of course, pick-up and drop-off transport adds to their cost and they pass on the cost to the customer. Six Stars charges IDR$150,000 for a 1.5 hr traditional Indonesian massage and IDR$180,000 for 2.0 hrs (compared to IDR$200,000 for a 1.5 hr traditional Indonesian massage and IDR$250,000 for 2.0 hrs with Isabella). 
When you come for a massage with Six Stars, you are brought upstairs and you lie down on a mattress on the floor, not a massage bed with a hole for your face.  There are many mattresses next to you and each mattress is separated by a curtain.  The entire body is worked on.  There is some pressing, but mostly stroking and gliding.  At the end of the massage, you are served ginger tea.  The ginger tea was very strong and sweet, which was very nice.
Highly recommended is the 1.0 hr foot massage (IDR$120,000).   First, you are brought to soak in a warm, herbal foot bath.  While your feet soak in the warm foot bath (so comfortable), the therapist massages your neck, shoulders, upper back and arms.  After soaking for 15mins and your blood circulation is going, the entire leg is massaged, including the quads (which is very rare) but not hamstrings.  Instead of a lot of scraping of soles using the knuckles, there is a lot of pressure using knuckles, which is the way it should be. Heaven!
If you stay at Swiss-Belhotel, it is infinitely convenient to go for a massage at Six Stars, as it is right opposite.  If you get an oil massage, after the massage, all you have to do is to walk across back to the hotel for a hot shower and you are clean.  There is also a row of seafood restaurants 2 min walk away from Six Stars.  So you can go for seafood after your massage.
Both male and female therapists available for foot and body massages.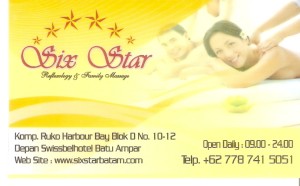 (Visited 40 times, 1 visits today)