Based on the concept of mezza9 in Grand Hyatt Singapore, this mezza9 is an all-round stimulation of the diner's senses.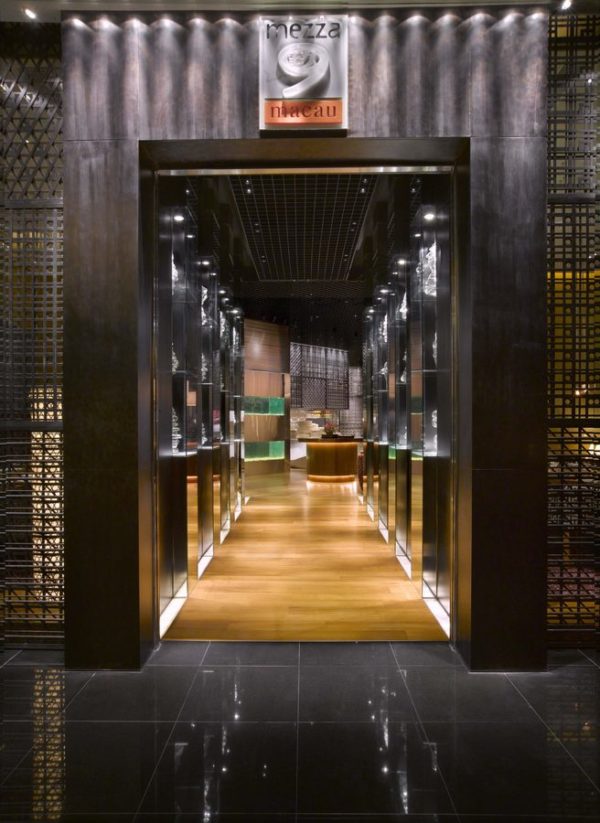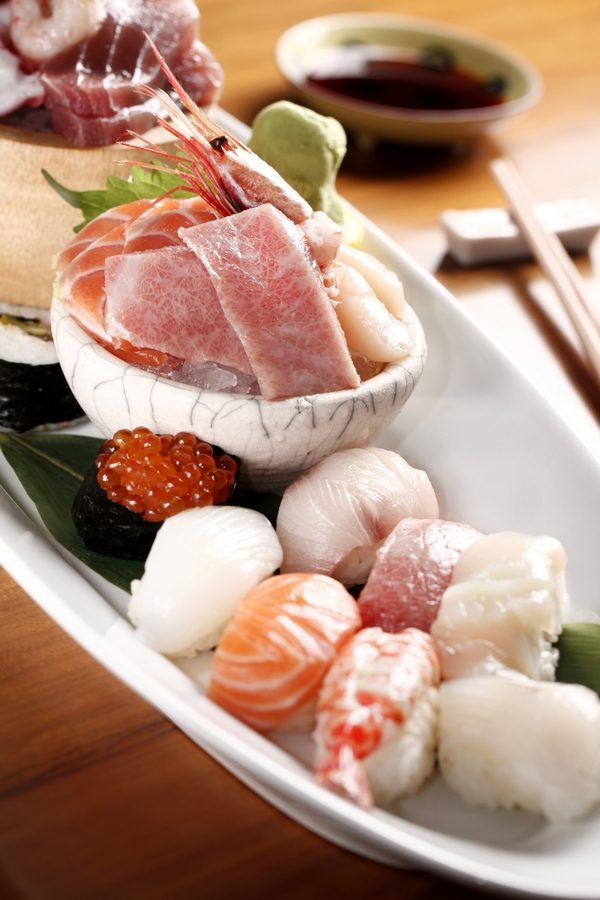 Created by the cutting-edge Japanese interior design firm SuperPotato, the eclectic, highly textured 292-seater space is defined by giant, roughly-hewn stone blocks forming counters and lining walls, as well as an eye-catching array of lattice-patterned metal screens.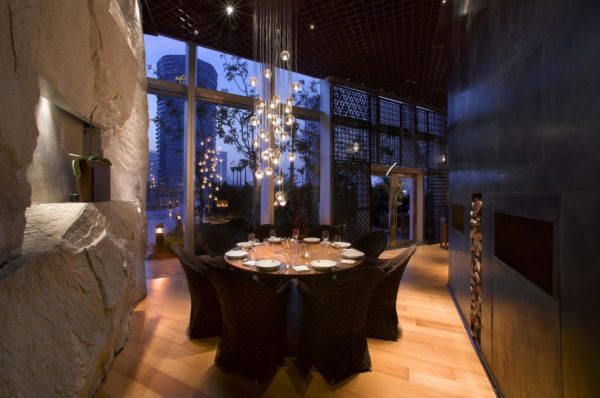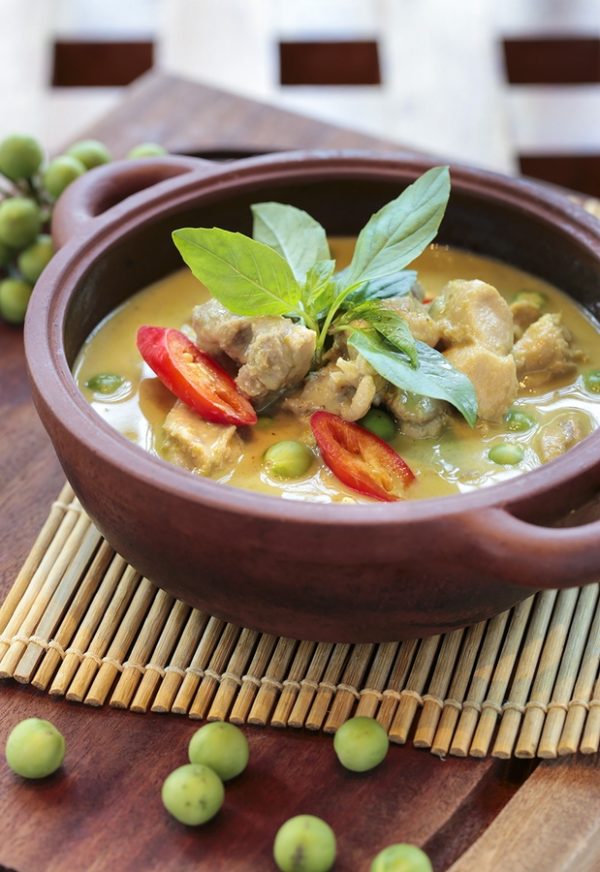 Other than in the main restaurant, guests can also choose to dine on the outdoor terrace; in one of four semi-private, Japanese wood-lined booths; or in one of three 10- to 12-seater private rooms. One of the private rooms is housed within a 'wine cellar', complete with vaulted brick-lined ceiling, wooden barrels and a lounge area for pre- and post-dinner drinks.  This particular private room feels very expensive.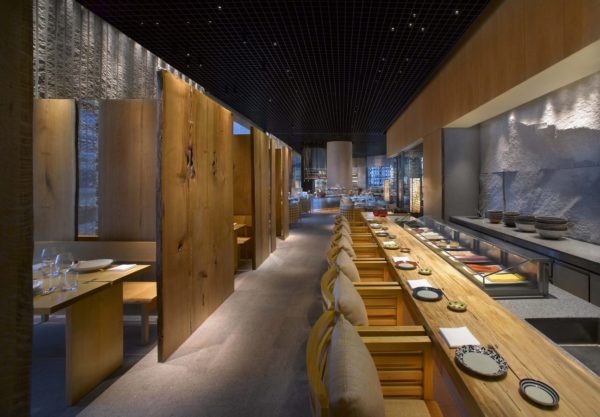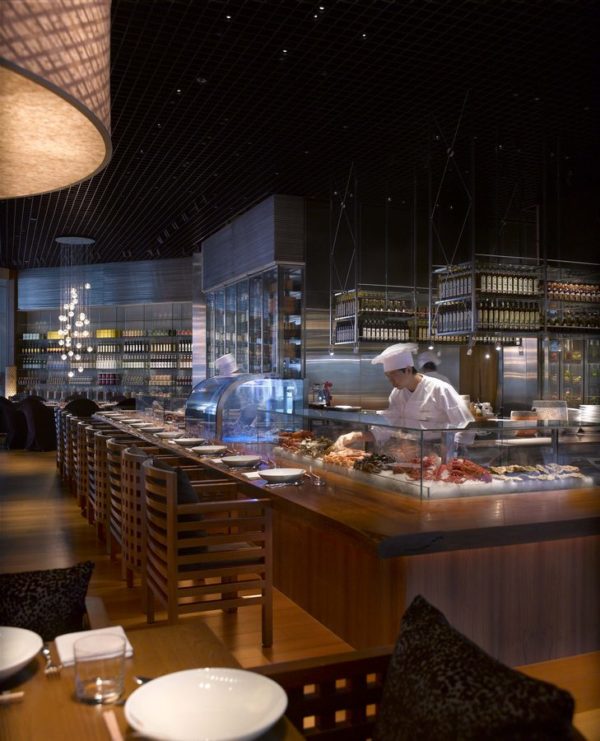 Walking through mezza9 Macau, the diner experiences elaborate counter displays and theatrical show kitchens, which offer all-round stimulation of the diner's senses. Vibrant colour and texture is provided by floor-to-ceiling displays of fruit and vegetables; oversized bowls of ginger knuckles, garlic bulbs, pumpkins and chestnuts; and giant jars of fresh ingredients such as papaya halves, kumquat and pomelo.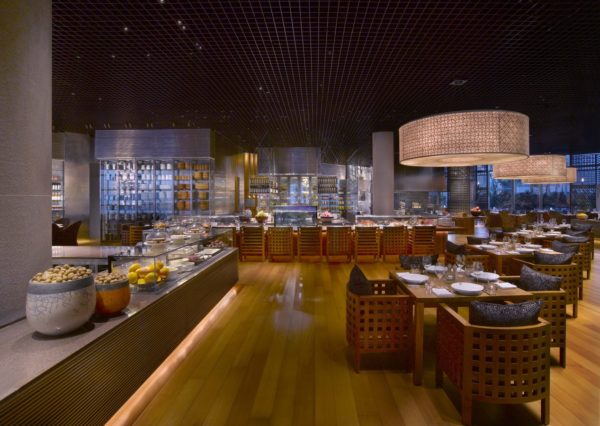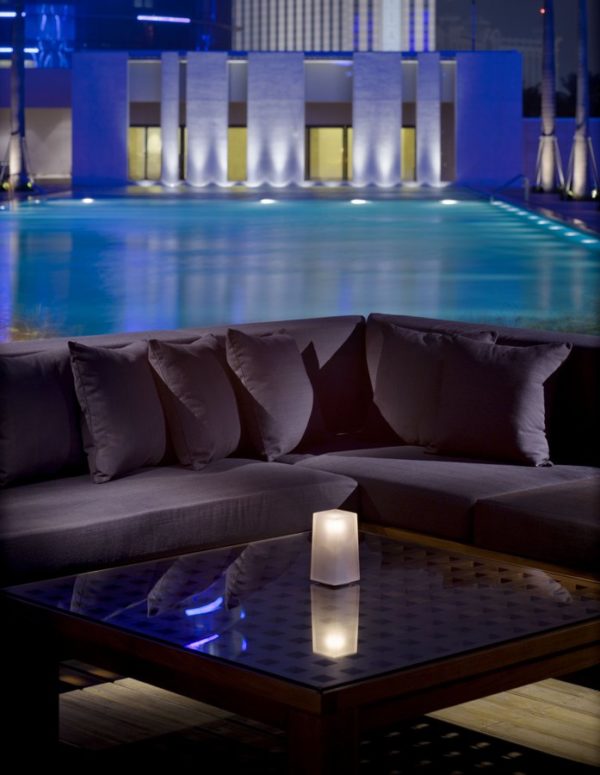 Tables are interspersed between tanks of live lobsters and seafood, glistening ice-filled crustacean stations, sugar cane machines. and shelves of culinary merchandise and utilitarian cooking equipment.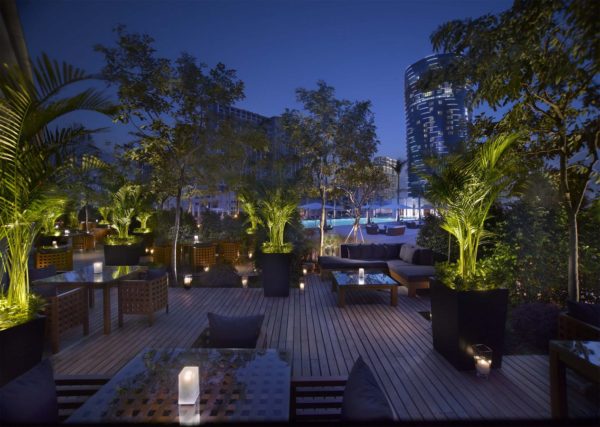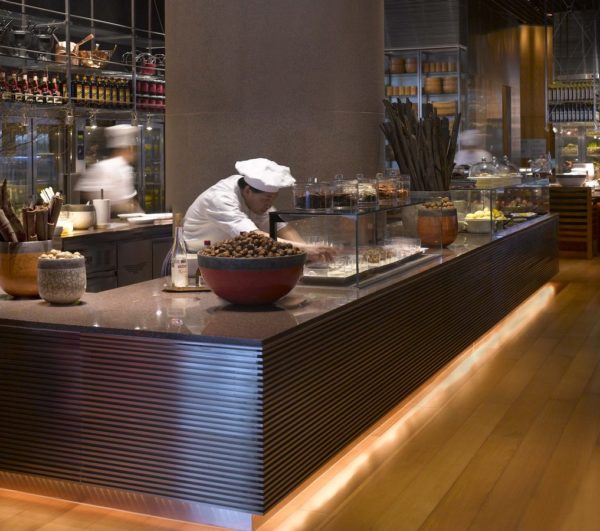 Mezza9 Macau offers different wining and dining experiences under one roof: Macanese; Grill; The Sushi and sashimi bar; The Wok; The Steam Basket; The Deli; The Pâtisserie; The Wine Cellar and Bar.  From one succinct menu, guests can order deep fried soon hock, soy sauce or charcoal grilled mixed meat or arroz de pato de cabidela (Macanese duck rice).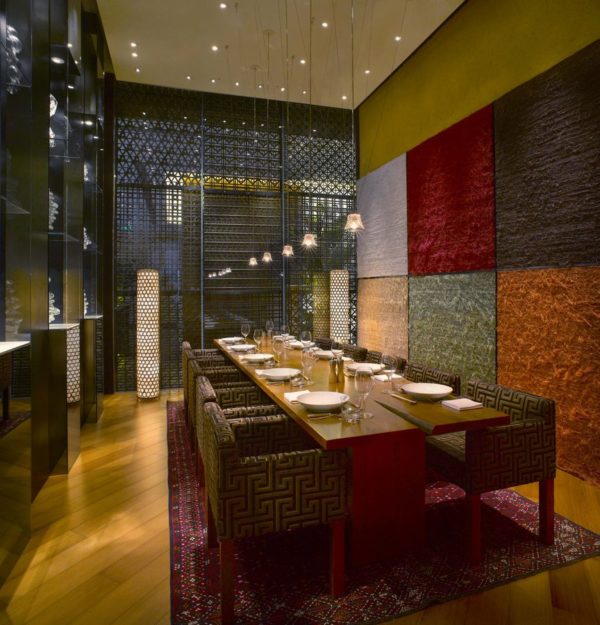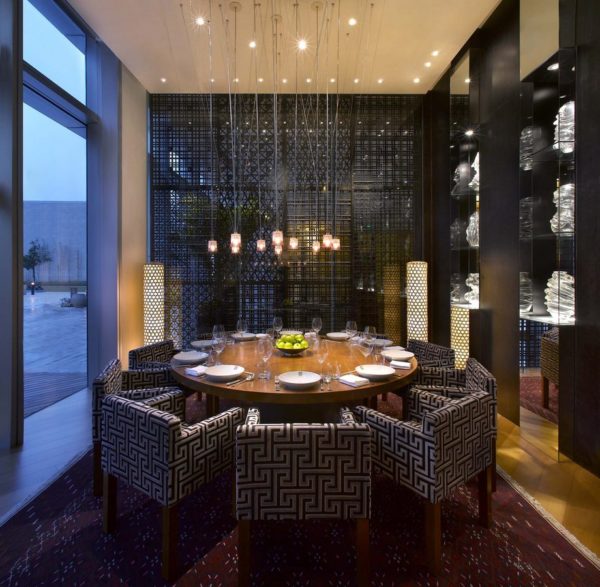 Seafood on Ice—- lobster, black mussels, whelks, Japanese scallops, alaskan snow crab legs
Seafood lovers would do well to order the seafood platter.  Imagine a mountain of seafood including lobster, sweet, delicious Alaskan snow crab legs, mussels, prawns and whelks.  The seafood platter is substantial and most people order it to share it.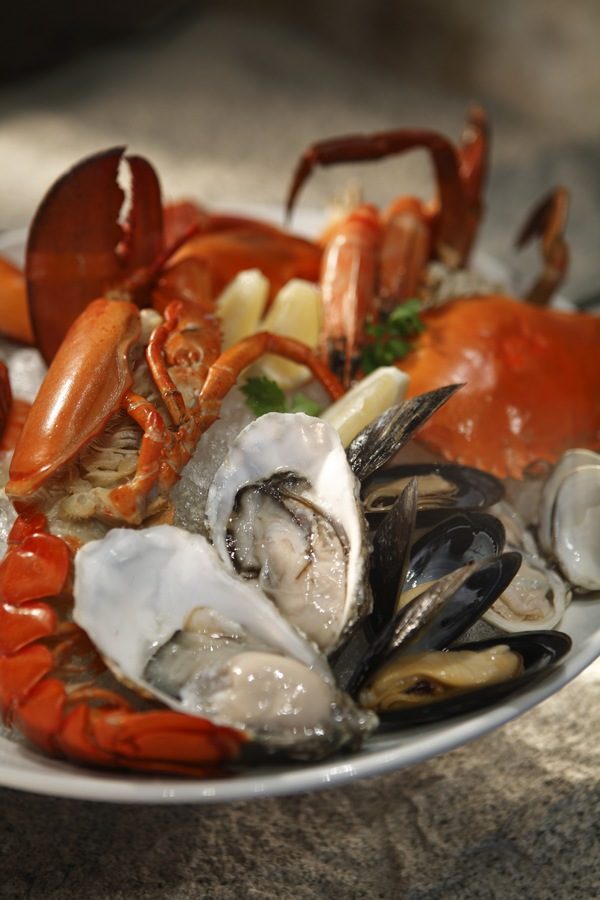 Crab cakes, mango and coriander salsa, remoulade sauce
The crab cakes are one of their signature dishes.  The crab cakes are indeed full of crab meat.  I had tried crab cakes in other restaurants where the inside is full of flour filling.
Deep fried soon hock, soy sauce
The fried Soon Hock was amazing.  The execution of this dish is quite difficult.  The fish needs to be fried slowly so that the exterior is crispy while the inside remains moist.  The fish tasted fresh and free from any odours and unpleasant flavours.
Mezza9 is also a good place to try out Macanese dishes.
Portuguese green soup, chorizo
The potato soup is very creamy and combines the use of locally sourced vegetables for crunchiness.
African chicken
The African Chicken has a mild spicy, curry flavour as well as hints of coconut fragrance.
Macanese duck rice
The Duck Rice is savoury and filling.
Mezza9 excels in Portuguese desserts.  They are famous for their Portuguese egg tarts.  It comes to the table warm.  The crust is flaky and the custard is rich with vanilla and egg flavour.  It is a winner.
The Serradura is delicious.  Serradura or Sawdust Pudding is a Portuguese dessert made up of sweetened, vanilla whipped cream and serradura. Apparently, 'serradura' translates to 'sawdust' in Portuguese. And the 'sawdust' in this dessert is actually crushed Tea Biscuits!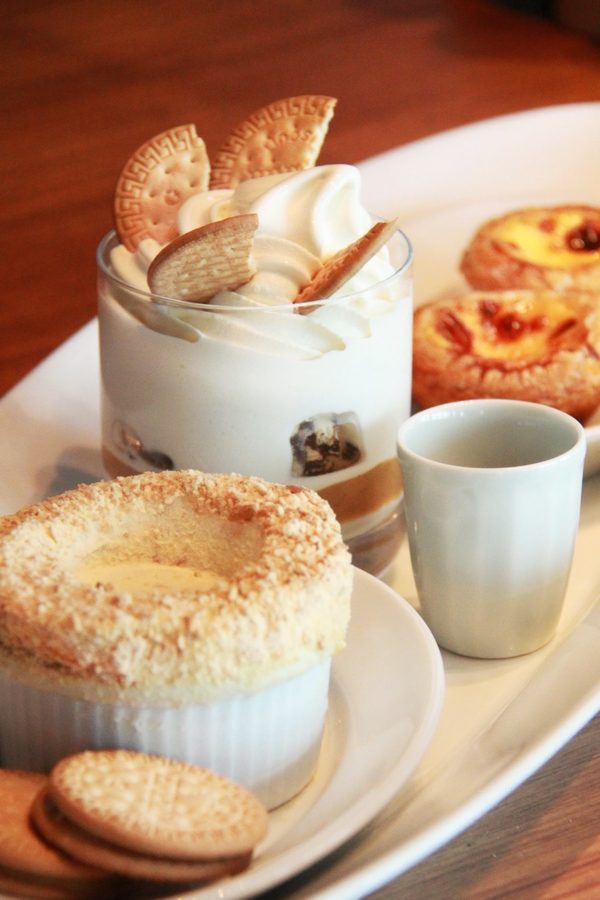 With such a large variety of quality cuisine, Mezza9 Macau definitely counts as an exciting destination.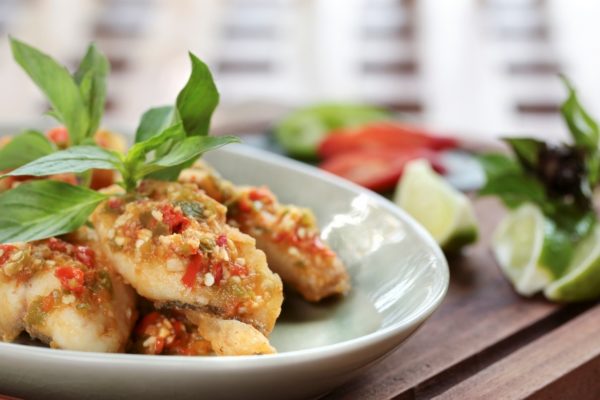 mezza9 Macau Opening Hours: 5:30 pm to 11:00 pm
Enquiries or reservations: +853 8868 1920
Email: macau.grand@hyatt.com
Location: Level 3, Grand Hyatt Macau
(Visited 2 times, 1 visits today)