Best Restaurant Service—– Professional, Excellent Product Knowledge
Yes, Morton's has recently undergone a light refurbishment. The tone of decor is lighter. Think more blue now instead of dark brown wood. The place now looks fresher, but retains a heavy business atmosphere. With its American business-like atmosphere and professional service, this is an excellent place to ink your next deal.
Tuna Tacos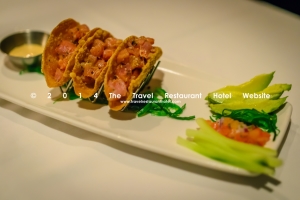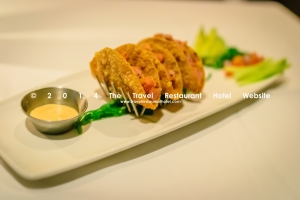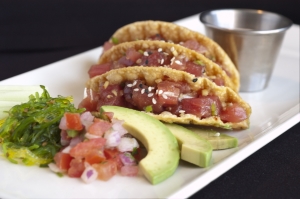 Fresh tuna prepared with sesame oil, white sesame, black sesame, served with avoacdo strips, seaweed, salsa and cucumber strips. This appetiser also comes with a small dip of Thai sauce.
This is one of their new appetisers, and is only around 6 months old. Hmmm… a fusion of Mexican and Asian. Interesting, light and zesty. It goes great with a Sauvignon Blanc.
Baked Five Onion Soup
This has got to be the richest onion soup I have tried. Soup always needs to be served very hot, and they served it piping hot! Hot and rich, together with the cheese, it is great on a rainy night.
6 oz Filet Mignon with Grilled Shrimp and 2 Bacon Wrapped Scallops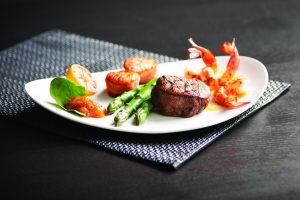 The seafood is firm and fresh. This has got to be the most tender filet mignon I have tasted.
Morton's Legendary Hot Chocolate Cake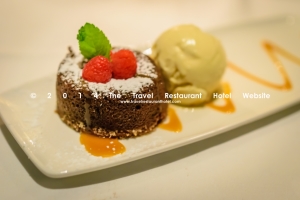 Oh! The legendary hot chocolate lava cake. The warm cake was served alongside Haagen Daaz vanilla ice cream. Oh, the contrast between warm and cold was heavenly! When I broke the soft, moist cake, thick chocolate lava rushed out. Rich and thick, the cake does not immediately crumble upon touching it with a fork. It held up well. While I am not a huge chocolate fan, well-executed as the cake is, it is already a big hit with the diners at Morton's.
What I like about Morton's is its reliability—- the food is always excellent and of the highest quality.
What you are paying for, besides the reliability and excellence of cuisine, is the quality of service. The service is what differentiates Morton's from other restaurants. Here, everyone knows what he or she is doing. It is also great that they really work as a team. If someone accidentally drops a glass (hey, it happens to the best of us), the others help to pick up the glass. Also, they really know their product—–the various cuts of meat, and the various desserts. I really appreciate that the wait staff shows you the various cuts of meat and the various hot desserts. Having them in front of you gives you an idea of the size of the portion and helps in your decision making.
Morton's, with its reliability, consistent product and its quality service, can be said to be the very best of American capitalism. I have never seen a restaurant with service as good as this.
(Visited 4 times, 1 visits today)